Marygrove Athletics Launches Free Android App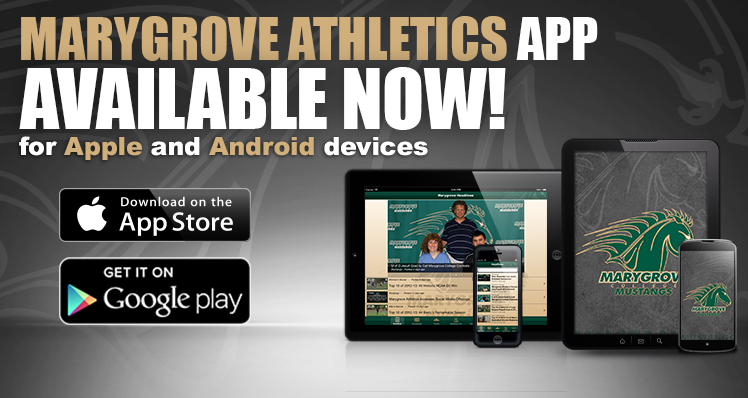 DOWNLOAD OUR FREEÂ ANDROID APP HERE | APPLE (iOS) APP
DETROIT, Mich. — Marygrove College Athletics announced Thursday (Jan. 16) the release of a free mobile app for Android devices available on the Google Play store. The release follows a long line of communications enhancements over the past year for Marygrove's athletic department. Other recent additions include the department's first mobile app (apple devices), a new broadcasting partner and schedule through Stretch Internet, and an enhanced communications strategy that led to numerous upgrades to the department's award-winning website, MarygroveMustangs.com, and the department's social media channels.
The app can be downloaded at no cost on any compatible Android device (Search: Marygrove).
Designed for the community to stay connected on the go, the app acts as a mobile host to information provided on the athletics website, MarygroveMustangs.com, and the department's social media channels.
GET CONNECTED: Facebook | Twitter | Instagram | YouTube
The Android app, created by the department's website-hosting company — SIDhelp – was officially released earlier this week and is currently available on the Google Play store. The Android version of the app accompanies an August 2013 release of the department's Apple (iOS) app. When the Apple version was launched, the athletic department received an overwhelming demand for an Android app from those in the Marygrove community.
"We realize the importance of reaching all of our supporters efficiently and effectively in the world of modern communication we live in," remarked Assistant Athletic Director for Communications & Events, Tim Johnston. "This year's additions to our athletic communication efforts have reflected positively on the overall student-athlete experience at Marygrove College," continued Johnston. "More than ever, our staff and students receive compliments on the fine work that is being done by the entire Mustang Family. I am very proud of our growth and the great work the students and staff put forth to allow us this type of growth and exposure. We couldn't be happier to launch our latest app for those with Android devices."
With the Android app, fans can read the latest headlines and game recaps, check up on recent news within the department, access student-athlete and staff bios, view team schedules, get connected through the various department social media channels, and even watch or listen to live events when a Wi-Fi connection is available.