Jackson, Weaver Shine in Road Loss at Indiana Tech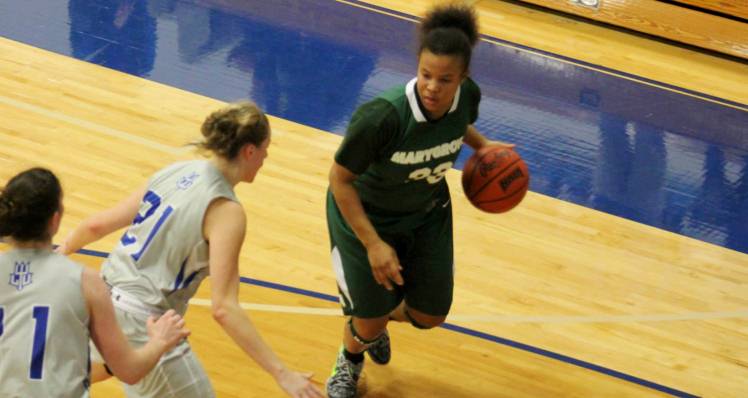 FORT WAYNE, Ind. — Adrienne Weaver (Flint, Mich./Mott CC) dropped in a season-high 21 points and Breomi Jackson (Detroit, Mich./Tennessee State) pulled down a season-best 17 rebounds, but the women's basketball team dropped their road Wolverine-Hoosier Athletic Conference (WHAC) contest in Fort Wayne, Ind., to the Warriors of Indiana Tech, 76-57. The game – held Thursday (Feb. 6) – tipped off 24 hours after the originally scheduled date of Wednesday (Feb. 5) due to a winter storm that blanketed the Great Lakes region.
Weaver, recording her best scoring effort since Nov. 16, 2011 when she tallied a career-high 26 against St. Clair College, was red-hot to start Thursday's conference contest. The senior guard poured in the Mustangs' (2-22; 0-17 WHAC) first 15 points to help the Green & Gold keep pace with the host Warriors (14-11; 11-6 WHAC) early. Despite Weaver's 15-point outburst, the Warriors were able to pull ahead early owning a 24-15 edge with 8:16 remaining in the opening half.
With Weaver's initial burst over, the Warriors shot out to a 13-point (39-26) lead at halftime.
The Mustangs would fall behind by as many as 20 in the second half but battled back to within 13 on two separate occasions deep into the latter stanza.  Despite coming back on a pair of occasions, the Mustangs could never climb back to within single digits as the Warriors went on to take the19-point conference decision.
Weaver led all scorers Thursday with a game-high 21 points in 31 minutes of action. Weaver's season-high was accompanied by a strong night from Ciara Moore (Detroit, Mich./Northwestern) as the senior guard netted 17 in the loss.
Jackson's 17 rebounds also marked a single-game high for the Mustangs this season.
The Warriors were led by Ulyssia Richmond with 19 points.
The Mustangs will return home Saturday (Feb. 8) for a 1 p.m. tip against Lourdes University. The game can be heard live on the Mustang Sports Network beginning at 12:50 p.m.
Follow women's basketball on twitter:Â @MGroveWBBALL
GET CONNECTED: Facebook | Twitter | Instagram | YouTube
Follow Marygrove's new team on twitter:Â @MGroveBASEBALL