No. 16 Saints Run Past Women's Basketball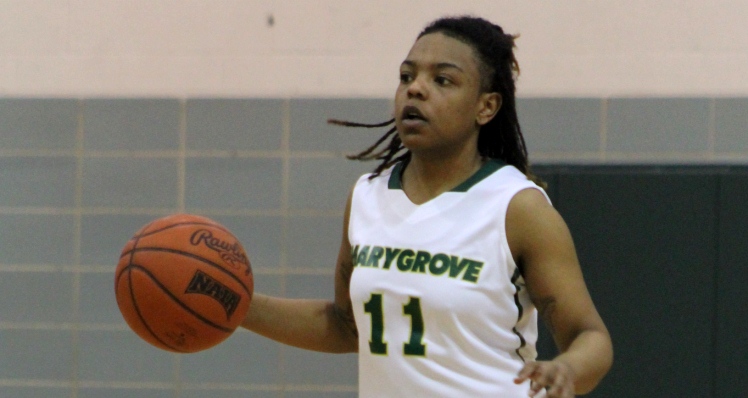 ADRIAN, Mich. — The Marygrove women's basketball team (2-24; 0-19 WHAC) ran into one of the NAIA's hottest teams when they traveled to Adrian Wednesday (Feb. 12) to take on No. 16 Siena Heights (21-6; 14-5 WHAC) in a Wolverine-Hoosier Athletic Conference battle. The host Saints – a team that has only lost once since the calendar turned to 2014 – opened up an early first half lead and never looked back as they topped the Mustangs by an 89-43 final.
In Wednesday's game against at Siena Heights, the Mustangs were once again plagued by a rough shooting night as the team shot 7-of-27 from the field in the first half compared to the Saints' 18-of-36 effort over the opening 20 minutes. The Mustangs were forced into 16 turnovers in the first half, leading to extra Saints possessions and conversions.
The unlucky shooting half, combined with turnovers issues, led to a 31-point halftime deficit as the Saints went into the break up, 54-23.
The Mustangs attempted to chip away in the second half, but were met by a sharp-shooting Saints squad on their senior night. For the game, the Saints shot 45.9 percent from the floor compared to the Mustangs' 18.6 percent clip. The discrepancy from the floor and 23 Mustang turnovers were too much to overcome as the Saints rolled in Wednesday's WHAC contest, 89-43.
Marygrove received a team-high nine points from Ciara Moore (Detroit, Mich./Northwestern) as no Mustang reached double figures in the contest. Anastasia Smith (Cleveland, Ohio/Bluefield State) and Kierra Jordan (Westland, Mich./John Glenn) added eight and seven points, respectively.
Siena Heights was led by Sierra Calhoun with a game-high 15 points.
The Mustangs will remain on the road for their next WHAC contest Saturday (Feb. 15) when they travel to Lima, Ohio to take on the University of Northwestern Ohio Racers. Tip-off in Ohio is slated for 1 p.m.
Follow women's basketball on twitter: @MGroveWBBALL
GET CONNECTED: Facebook | Twitter | Instagram | YouTube
Follow Marygrove's new team on twitter:Â @MGroveBASEBALL