Basketball Season Has Returned!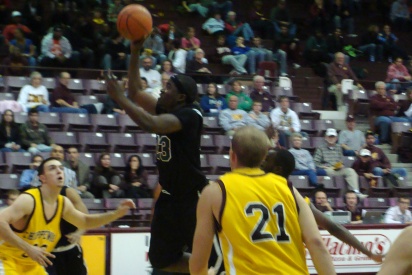 DETROIT, Mich.-Time to hit the hardwood! The Mustangs tip-off the 2009-2010 campaign at Central Michigan University on Sunday at 4:30pm. The game will be played inside Rose Arena in Mt. Pleasant.
Link to Live Stats v. CMU (11/01 at 4:30pm)
Link to Live Video v. CMU (11/01 at 4:30pm)
The game will mark the first time the Mustangs will hit the court since their sixth place finish at the USCAA National Tournament last season. The 2009-10 team remains young, but welcomes many new faces to the mix that will bring plenty of firepower. Explosive junior college transfer Jamie Guyton (Kellogg Community College) heads a talented group of incoming players for coach Donahue and the Mustangs. Guyton is followed by fellow talented incomers DeAundray Armstrong, John Sheard and Chris Sinagoga just to name a few. The group, along with many others, will bring depth and experience to the Mustangs as they begin their chase for a National Championship.
Junior swingman Keontay Glazier (Minot Community College) is now active after electing to redshirt last season. Glazier brings a balanced all-around attack that will be tough for opposing defenders to match. The junior is already noticed as a locker room leader in only his first year on the Marygrove roster.
The new faces join a squad that finished the season at .500 (13-13) for the first time in program history. Last season's leading scorer Marcus Hopkins is back and looks to make a splash early on against stiff competition, while Honorable Mention All-American Justin McKinney is poised to have another stellar season donning the Mustang Green & Gold. Defensive stalwart Frank Murdock has impressed the coaching staff with his offseason regimen that will only assist in his efforts to shutdown the opposition.
After completing a rigorous offseason program, junior bigman Eric Johnson is back and ready to take his game to a new level. The 6'8″ force had five double-doubles for the Mustangs during the 2008-09 season.
The 2009-10 schedule kicks off with two tough battles against NCAA Division I powers Central Michigan and Northern Illinois. After that, the Mustangs head back to Detroit to host NAIA #9 ranked Indiana Wesleyan University on November 10 at 8pm. The schedule doesn't get much easier as the team takes on many of the top NAIA programs in the region. Below are links to help you prepare for the upcoming season of MUSTANG BASKETBALL!
2009-2010 Schedule
Roster
Link to Live Stats v. CMU (11/01 at 4:30pm)
Link to Live Video v. CMU (11/01 at 4:30pm)