Men's Soccer Inaugural Season Comes to a Close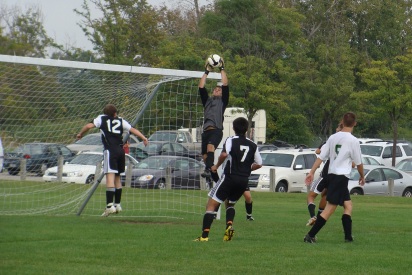 GRAND RAPIDS, Mich.-The inaugural season of Mustang men's soccer ended with no treats for the Mustangs on Halloween. The Golden Eagles of Cornerstone jumped all over the Mustangs on their way to an 8-0 victory.
A balanced four goals in each period brought the Golden Eagles to the decisive final tally to end the Mustangs season. The first season was almost certain to have these moments, but the Mustangs bucked the first year trend on many occasions as they chalked up four wins on the year.
The offseason begins immediately for the roster full freshmen. Workouts and conditioning will begin after a brief break as Coach Johnson looks to strengthen his squad for next season. Next year, the Mustangs will spawn into sophomores, add new pieces to the puzzle, and continue on their path to what promises to be a successful men's soccer program for years to come.
A season wrap-up will hit www.marygrovemustangs.com in the near future. Thank you to all the players, coaches, and parents who made the first season of Mustang Soccer enjoyable from start to finish.