Top 10: #1 – What a Fun Ride! Volleyball Visits New York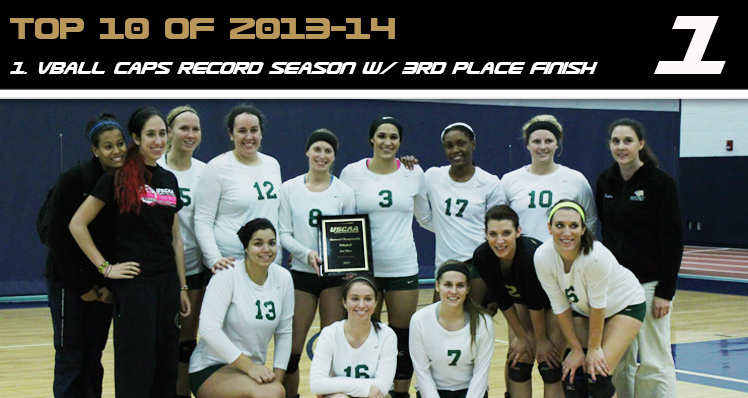 STAY CONNECTED: Facebook | Twitter | Instagram | YouTube | Recruit Interest Form
GET THE LATEST NEWS & SCORES SENT STRAIGHT TO YOU:Â Text & Email Alerts
DOWNLOAD OUR APPS:Â iOS (iPhone/iPad)Â |Â Android
We've reached No. 1in our countdown in the #MGTop10 of the 2013-14 season. Coming in at No. 1 is………..women's volleyball! Head coach Jamie Baker and the Mustangs had a remarkable 2013 season and shattered many single season records along the way.The team landed on the top spot in this year's countdown for their trip to New York and third place finish overall in the USCAA to put the icing on a stellar campaign. With a complete roster overhaul and a daunting WHAC slate, the women's volleyball team navigated the 2013 season en route to a 19-16 overall record after making it to the national semifinals in New York.
The trip, along with individual awards ranging from an Academic All-American (Alixandria Pappas) to All-Americans (Katharina Hall, Kara Kempinski and Millie Velez) was a resounding success for the team and a huge building block for years to come. Congrats @MGroveVBALL for taking home the No. 1 spot in this year's #MGTop10 countdown! Good luck to all teams this year! #TeamMG
TOP 10 REWIND
1. Women's Volleyball Culminates Record Season at Nationals
2. Men's Soccer Upends Spring Arbor on the Road
3. Dixon Drops Career-High 40 Points on Siena Heights
4. Velez's Record 22 Kills Lifts Volleyball to First WHAC Win
5. Pryor's Return Ignites Dramatic Comeback Victory Over LTU
6. Men's Basketball Makes An Impact
7. El-Zein's Heroics Caps Late Comeback
8. Volleyball Goes Undefeated in Florida to Win Volleyfest Championship
9. Women's Soccer Routs Grace Bible, 7-0
10. Baseball Arrives on Marygrove's Campus
ORIGINAL RELEASEÂ 
CANTON, N.Y. – The Mustangs went into Canton, N.Y., and took home third place in the United States Collegiate Athletic Association (USCAA) after dispatching Rochester in Saturday's (Nov. 2) third place match. The win over Rochester was the 19th of the season for head coach Jamie Baker and the Mustangs (19-14, 2-8 WHAC) – a single-season program record. Saturday's to clinch third in the nation (USCAA) eclipsed the previous best of 18 wins set in 2010.
The third place victory followed a four-set loss in the national semifinal match to Florida College.
Florida College def. Marygrove (16-25, 19-25, 25-23, 22-25)
In the match against Florida College, the Mustangs went down by two sets before another great comeback would take place. Taking the third set, the Mustangs began a rally that would last deep into set four before Florida pulled away. The never-say-die attitude of the team showed once again in the hard-fought loss.
"We went to New York with a goal of a championship for the seniors," said Baker. "Regardless of the result, I am so proud of the team for their hard work and heart shown throughout the season. We still have plenty of volleyball left with a WHAC regular season match and a potential postseason run in us."
Kiara Cobbs (Detroit, Mich./King) led all Mustangs with nine kills, whileKara Kempinski (Livonia, Mich./Schoolcraft College) and Katharina Hall(Livonia, Mich./Henry Ford CC) had 32 and 10 digs respectively.
Marygrove def. Rochester College (25-12, 25-20, 16-25, 25-22)
The Mustangs made it three-in-a-row over Rochester College to take home third place in the nation (USCAA). Amelia Velez (Imlay City, Mich./Prairie View A&M) paced the attack with 14 kills, while Katharina Hall followed with eight.Sarah Suppelsa (Livonia, Mich./Concordia-Ann Arbor) slammed down seven kills to help put away the Warriors.
Kara Kempinski had 18 digs to solidify a spot on the USCAA's All-Tournament Team. Nicole Kempinski (Livonia, Mich./Schoolcraft College) finished with 32 assists against the Warriors.
The Mustangs will be back in action when they play Lawrence Tech next week. The match's date and time is TBA due to a building conflict at UD-Jesuit.
Follow women's volleyball on twitter:Â @MGroveVBALL