Men's XC Season Comes to a Close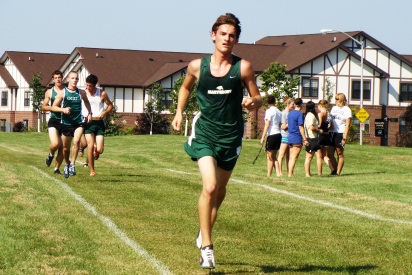 Concord, NH-The Mustang men finished a stellar season with a trip to the 2009 USCAA Championships Meet. In all, 94 runners competed in the season-ending meet for USCAA supremacy.
Anthony Butler (Wyandotte Roosevelt) and Franklin Murdock once again were the only two to hit the course for the Mustangs. After a slow start, the men battled the 8k course tough.
Anthony Butler, a true freshman, didn't have his best race of the season at Friday's national meet. He finished in 50th place with a time of 31:56. Butler was ranked 10th in the country heading into the race.
Franklin Murdock, a senior on the men's basketball team, decided to run cross country to assist in the program's growth. Merely showing up to run, Murdock had no clue how successful he could be. He finished the challenging USCAA National's course in 30:39. The time would be good enough for 32nd place. (Note: Murdock was ranked 16th in the country heading into the race)
Both men had a successful season and improved vastly along the way. Much credit can be given to the coaching style of inaugural season head coach Lee Shaw. Shaw's drive for success pushed his talented Mustangs all the way to nationals. Coach [Shaw] anticipates a great 2010 recruiting class now that the Mustangs added track & field as a varsity sport.