York Lifts Women's Soccer to First WHAC Win Since 2012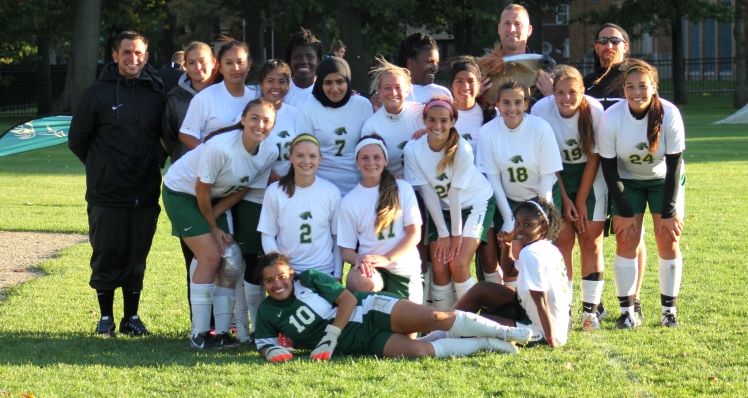 STAY CONNECTED: Facebook | Twitter | Instagram | YouTube
BE THE FIRST TO KNOW:Â Text & Email Alerts
DOWNLOAD OUR APPS:Â iOS (iPhone/iPad)Â |Â Android
DETROIT – A pair of goals from Cheyenne York (Taylor, Mich./Truman High School) – made possible by assists from Kamry Miller (New Boston, Mich./UM-Dearborn) and Kaitlyn Vigna (China Twp., Mich./Marine City High School) – lifted Marygrove women's soccer past the visiting Indiana Tech Warriors, 2-1, Wednesday (Oct. 8) in Detroit. The WHAC win is the first for women's soccer since their inaugural season in the conference (2012) as the team continues to roll as of late.
The win temporarily places the Mustangs (2-9-1, 1-2-1 WHAC) in seventh place among WHAC teams, one spot ahead of Saturday's Senior Day opponent, the Madonna University Crusaders. If they playoffs started today, both the Mustangs and Crusaders would qualify after posting four and three points, respectively, in WHAC play this season.
As for Wednesday's game, the visiting Warriors (6-6-0, 0-4-0 WHAC) ran into a physical defense as the Mustangs shut down numerous Indiana Tech advances in the first half. After a back-and-forth start, the Mustangs broke through in the 28th minute after York beat the keeper in a one-on-one situation when Miller sent a well-played ball through the middle the Warrior defense to find her teammate's feet.
The Mustangs continued to attack, but couldn't notch another goal before the Warriors' Jessica Zurcher tied the game with a strike in the 44th minute. Southgate native Tori Singstock provided the assist through the box for Zurcher's tally as the teams headed into the halftime break tied, 1-1.
Second half action belonged to the defenses, especially the back line of the Green & Gold, as Olimpia Bonilla (Salt Lake City, Utah/Barton CC), Miller, Sara Ruch (Oxford, Mich./Oxford High School), and Hailey Varney (Flushing, Mich./Auguste-Pattberg-Schule) once again played an organized game to thwart the opposition.
The defense did its job, and York did hers as the senior struck again – this time with the game-winning goal – in the 78th minute off of a Vigna assist. The goal was York's sixth of the season and the 22nd of her career to help the Mustangs land their first WHAC win of the year.
Originally a forward, junior Bianca Barron (West Jordan, Utah/Barton CC) played another fine game in net for the Mustangs, turning away eight Warrior shots for her first victory of the season. In the first half, Barron came up big with a diving save toward the far post to help preserve the win and inch the Mustangs one step closer to conference postseason play.
The Mustangs will celebrate Senior Day 2014 at the conclusion of Saturday's 12 p.m. contest against Madonna. The game will feature a live video and stats stream on the Mustang Sports Network at marygrovemustangs.com/live. 
   
WOMEN'S SOCCER CONTACT: Tim Johnston | 313-927-1419 | tjohnston@marygrove.edu | @tjohnston56
MARYGROVE BROADCASTS: Mustang Sports Network | Twitter
WOMEN'S SOCCER:Â Twitter