Alzayadi, Jallow Lead Men's Soccer to 2-1 Win Over CUAA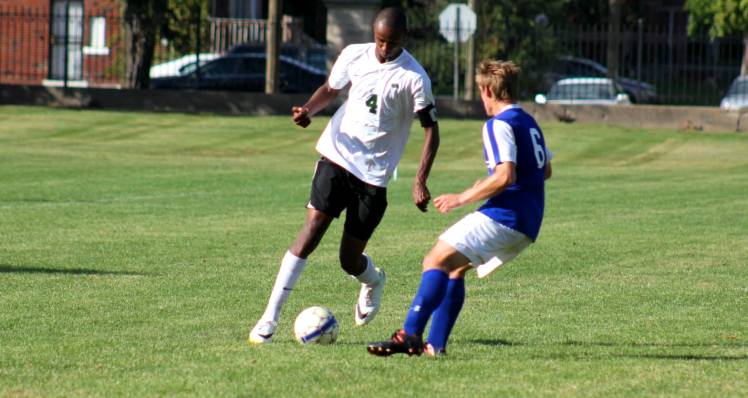 STAY CONNECTED: Facebook | Twitter | Instagram | YouTube
BE THE FIRST TO KNOW:Â Text & Email Alerts
DOWNLOAD OUR FREE APPS:Â iOS (iPhone/iPad)Â |Â Android
ANN ARBOR, Mich. – Marygrove men's soccer moved to 3-1 in WHAC play for the second time in as many years with a 2-1 road victory over Concordia University Wednesday (Oct. 8) in Ann Arbor. The Mustangs (4-8-0, 3-1-0 WHAC) improved to 6-0-1 over their last seven meetings with Concordia, coming back from a one-goal deficit to earn the conference victory as the team heads into a rare weekend off before hosting Indiana Tech Wednesday (Oct. 15).
In the 12th minute, the Cardinals (3-7-0, 2-2-0 WHAC) went on top, 1-0, after leading scorer Cory Briggs beat Ryan Plonka (St. Clair Shores, Mich./Macomb CC) Â to help the hosts take the early lead. The shot on target that beat Plonka would be the only scoring chance the Cardinals could muster all afternoon as the Mustangs defense held firm the remainder of the way. Despite shoring up their defensive effort and sending several shots toward the opposition's net, the Mustangs would head into the halftime break down, 1-0.
The Mustangs outshot the Cardinals 7-3 overall and 3-1 on goal through the opening 45 minutes of play.
In the second half, junior forward Abdoulie Jallow (Bansang, The Gambia/Rust College) put the Mustangs on the board with a 53rd minute goal off an assist from fellow junior Haider Alzayadi (Simawa, Iraq/Wayne State). Jallow's equalizing goal was his fourth of season as he helped bring the game even, 1-1, early in the second half.
The aforementioned pair would strike again, reversing roles 10 minutes later as Alzayadi sent a give-and-go ball from Jallow to the back of the net, giving the Mustangs a 2-1 lead. Alzayadi's goal – the game-winner in Wednesday's WHAC tilt –and Jallow's assist lifted each to three-point days as the Mustangs cruised from there to win, 2-1.
Seemingly in the Cardinals end all game, the Mustangs outshot the hosts 22-4 (8-1 on goal) and owned a 6-1 edge in corner kicks to race to their third conference win of the season. Concordia's 12th minute goal would mark their lone shot on target Wednesday afternoon.
The Mustangs will take a week off before their Oct. 15 match in Detroit with Indiana Tech. The team will remain home for Senior Day 2014 Saturday (Oct. 18) when Aquinas visits for a 3 p.m. kick.
MEN'S SOCCER CONTACT: Tim Johnston | [email protected] /* */ | @tjohnston56
MARYGROVE BROADCASTS: Mustang Sports Network | Twitter
MEN'S SOCCER:Â Twitter