Madonna Plays Spoiler on Women's Soccer Senior Day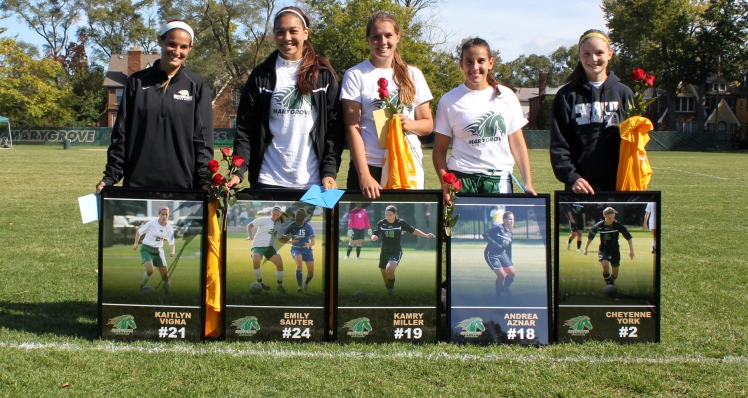 STAY CONNECTED: Facebook | Twitter | Instagram | YouTube
BE THE FIRST TO KNOW:Â Text & Email Alerts
DOWNLOAD OUR APPS:Â iOS (iPhone/iPad)Â |Â Android
DETROIT – The Marygrove women's soccer team held its Senior Day festivities Saturday (Oct. 11) when nearby conference counterpart Madonna University visited Detroit for a matinee matchup featuring a pair of teams vying for a postseason spot. The visiting Crusaders (7-5-0, 2-3-0 WHAC) played the role of spoiler, topping the Mustangs (2-10-1, 1-3-1 WHAC) on Senior Day by a 5-0 final score. With the loss, the Mustangs were left clinging to the eighth and final WHAC playoff spot – ahead of Indiana Tech and Lawrence Tech by four and three points, respectively.
The Crusaders took advantage of a depleted Marygrove roster, scoring early and often to earn the conference win over a Mustang team that was fresh off of a huge WHAC win earlier in the week. Missing key members of their defense, the Mustangs back half struggled as they shifted personnel around against a red-hot Crusader offense.
The Mustangs allowed the first goal seven minutes into the contest as the Jessica Witt started the Crusaders scoring spree. The visitors added two more in the first half and a pair in the second half, sending the Mustangs to their conference defeat of the season.
Despite the final score, the Mustangs celebrated the careers of five outstanding seniors after the contest. Andrea Aznar, Kamry Miller, Emily Sauter, Kaitlyn Vigna and Cheyenne York were honored by the athletic department with a special post-game ceremony as their collegiate careers near a close.
The Mustangs will be on the road for a pair of games next week as they visit NCAA Division II Ursuline College Wednesday (Oct. 15) for a 3:30 p.m. kick. Conference play resumes Saturday (Oct. 18) when the Mustangs make the trek to Grand Rapids to take on Cornerstone University at 4:30 p.m.
THANK YOU, SENIORS!
 
WOMEN'S SOCCER CONTACT: Tim Johnston | 313-927-1419 | tjohnston@marygrove.edu | @tjohnston56
MARYGROVE BROADCASTS: Mustang Sports Network | Twitter
WOMEN'S SOCCER:Â Twitter