Men's Soccer Settles for 2-2 Tie at Siena Heights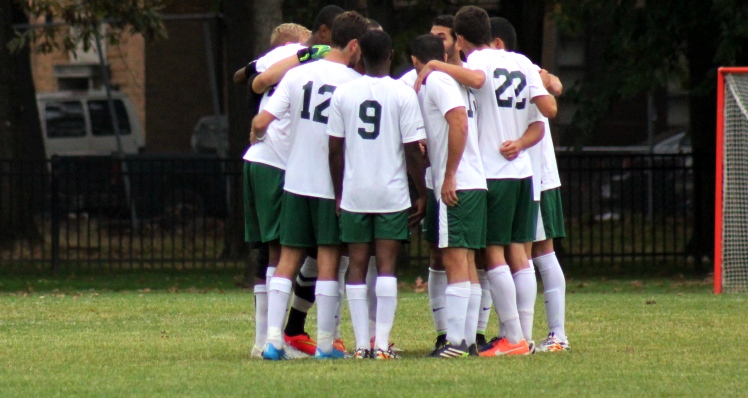 STAY CONNECTED: Facebook | Twitter | Instagram | YouTube
BE THE FIRST TO KNOW:Â Text & Email Alerts
DOWNLOAD OUR FREE APPS:Â iOS (iPhone/iPad)Â |Â Android
ADRIAN, Mich. — Marygrove men's soccer entered into its first of two night game environments this week by visiting Siena Heights Wednesday (Oct. 22) for a 7 p.m. conference clash. The teams couldn't decide on a winner in regulation, and a go-ahead goal in extra time was not in the cards, as the Mustangs (6-8-1, 5-1-1 WHAC) settled for their first tie of 2014 in a 2-2 double-overtime decision against the Saints (2-12-2, 1-5-2 WHAC).
The Mustangs seemed poised to earn their program-record sixth WHAC win early on after Abdoulie Jallow (Bansang, The Gambia/Rust College) put the Green and Gold up, 1-0, by knocking in a 31st minute goal from 12 yards out. Freshman defender Ramon Salas (Madrid, Spain/University of Madrid) played a volley into Jallow to earn the assist on the game's opening tally.
A minute later, [Ramon] Salas was at it again, sending home his second goal at the collegiate level off a well-played Talal Hamodi (Dearborn Heights, Mich./Crestwood High School) corner kick. Salas' three-point outburst in a matter of 90 seconds helped put the Mustangs on top, 2-0, with just over ten minutes remaining in the first half.
The Saints battled back, posting a goal in the 42nd minute to cut into the Mustangs' two-goal lead. The goal by the hosts would close the scoring for the half as the Mustangs went up by a goal into the break, 2-1.
After a back-and-forth open to the second half, the Saints tallied the equalizer in the 72nd minute, eventually sending the game to extra time. Neither team would find the back of the net in either overtime frame, settling for a 2-2 tie on a brisk night in Adrian.
The Mustangs owned a narrow lead in shots, 15-13, including an 11-7 advantage on target in the deadlock. The Mustangs earned a point with the tie, falling behind Madonna into fourth place overall in the conference.
Another night game is next as Cornerstone awaits the Mustangs for a 7 p.m. kick Saturday (Oct. 25) in Grand Rapids. 
MEN'S SOCCER CONTACT: Tim Johnston | [email protected] /* */ | @tjohnston56
MARYGROVE BROADCASTS: Mustang Sports Network | Twitter
MEN'S SOCCER:Â Twitter