Madonna Sneaks By Men's Soccer, 1-0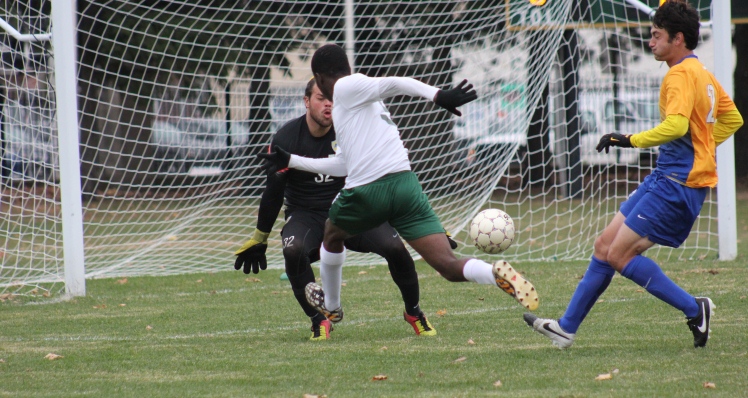 STAY CONNECTED: Facebook | Twitter | Instagram | YouTube
BE THE FIRST TO KNOW:Â Text & Email Alerts
DOWNLOAD OUR FREE APPS:Â iOS (iPhone/iPad)Â |Â Android
DETROIT — Despite outshooting and outplaying their opponent, the Marygrove men's soccer team fell to the visiting Madonna University Crusaders Wednesday (Oct. 29) by a narrow 1-0 final score. The Crusaders (13-4, 8-2) notched a goal in the 15th minute off of a counterattack to top the Mustangs (7-9-1, 6-2-1 WHAC) in the competitive WHAC showdown played in Detroit.
The Mustangs, a team owning possession and most of the game's scoring chances, outshot the Crusaders 13-3 overall and 6-2 on target as reigning NAIA Defensive Player of the Week, Marcel Schmid, shut down the Green and Gold's attack all afternoon en route to six saves.
Abdoulie Jallow (Bansang, The Gambia/Rust College) was once again the catalyst for the Mustangs, tallying four shots, sending three toward Schmid in 90 minutes of action. Andriy Pelekh (Lviv, Ukraine/Salem High School) and Vincent Umejeigo (Lagos, Nigeria/Wayne County CC) had two shots each, while Oneil Robinson (Montego Bay, Jamaica/Cornwall College) sent one shot wide on a one-v-one scoring chance in the first half.
Pelekh had a great chance for an equalizer late in the contest, sending a well-timed header on net that was sniffed out by the Crusaders' keeper. Pelekh's header came via one of eight total corner kicks as the Mustangs owned a decisive, 8-1, advantage in the category.
With the setback, the Mustangs will settle into the WHAC's fourth spot for the upcoming conference tournament. The fourth-seeded Mustangs will host the conference's fifth seed Saturday (Nov. 8) at 2 p.m. on Marygrove's campus. Concordia-Ann Arbor and Indiana Tech are deadlocked in a tie for fifth place after Wednesday's action.
Before the playoffs begin, the Mustangs will visit the No. 11 Northwestern Ohio Racers Saturday (Nov. 1) for a 3 p.m. kick. The Racers lost earlier Wednesday to No. 14 Davenport, 1-0.
MEN'S SOCCER CONTACT: Tim Johnston | [email protected] /* */ | @tjohnston56
MARYGROVE BROADCASTS: Mustang Sports Network | Twitter
MEN'S SOCCER:Â Twitter