Former Men's Soccer Standout El-Zein Signs Pro Contract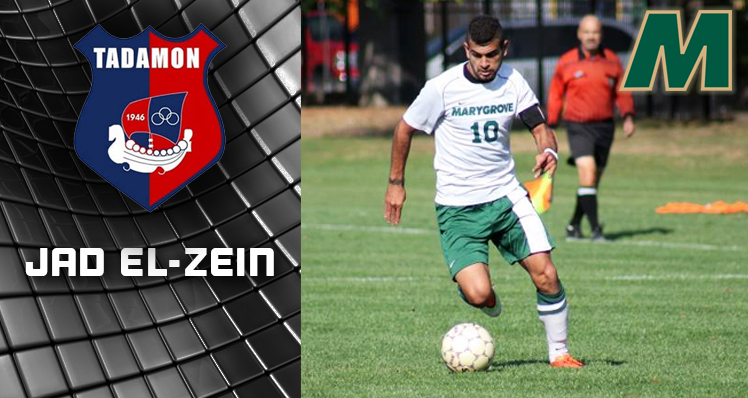 STAY CONNECTED: Facebook | Twitter | Instagram | YouTube
BE THE FIRST TO KNOW:Â Text & Email Alerts
DOWNLOAD OUR FREE APPS:Â iOS (iPhone/iPad)Â |Â Android
DETROIT – Former Marygrove men's soccer standout Jad El-Zein recently achieved a longstanding goal by signing a professional contract, returning home in the process to play in the Lebanese Premier League (LPL). The former four-year starter inked a two-year deal to join Tadamon Sour (pronounced soor) in his hometown of Tyre, Lebanon, after agreeing in principle to the contract earlier this fall.
"I spent a few weeks with the team in August and received an offer at that time," said El-Zein. "However, it was very important to me and my family to remain in Detroit to finish my degree this semester. Now that I have achieved that goal, I will be flying to Lebanon to join the team this week."
By joining Tadamon Sour, one of twelve teams in the LPL, El-Zein will get the opportunity to play in front of 50,000 fans when traveling to Beirut to meet up with reigning champion Al-Nejmeh. El-Zein joins a Tadamon Sour club that has produced players such as Lebanon national team captain, Roda Antar, who went on to play in the Bundes Liga for Hamburger SV and SC Freiburg, as well as Mohamed Kallon, a former member of Inter Milan in the Italian Serie A.
During his time at Marygrove, El-Zein amassed 29 goals and 12 assists for a 70-point career. The impressive numbers places the former four-year starter second all-time in program history all three categories.
As a senior in 2013, El-Zein tallied 27 points (11 goals, 5 assists) for the Green and Gold, a total good for third overall in the Wolverine-Hoosier Athletic Conference (WHAC). El-Zein ranked second in the National Association of Intercollegiate Athletics (NAIA) in 2013 after seven of his 11 goals came in game-winning fashion. To culminate his strong senior season, El-Zein was named a United States Collegiate Athletic Association (USCAA) All-American and a Wolverine-Hoosier Athletic Conference (WHAC) First Team selection. Showcasing his commitment to the classroom, El-Zein was also tabbed as a member of the WHAC's All-Academic Team during his junior season.
El-Zein has remained close to the Marygrove program since his collegiate playing days ended, joining head coach Matt Johnson's staff as a student assistant coach in 2014.
"Jad was a fantastic player for us during his four years at Marygrove," said Johnson. "He developed into a leader for us on-and-off the field and is most certainly ready to take the next step professionally. Our entire program will be following as Jad's journey begins over the next few years. We wish him the best of luck."
MEN'S SOCCER CONTACT: Tim Johnston | [email protected] /* */ | @tjohnston56
MARYGROVE BROADCASTS: Mustang Sports Network | Twitter
MEN'S SOCCER:Â Twitter