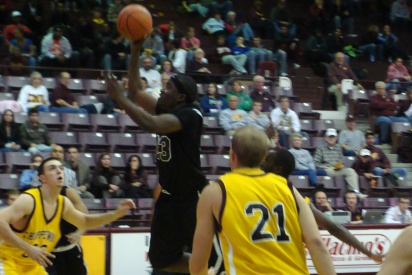 DETROIT, Mich.-The Good: The Mustangs got off to a strong start for the second game in a row. The Bad: A late lead couldn't hold for the second straight game. The Result: A home loss to NAIA foe Concordia University, 74-66.
Junior forward Justin McKinney lit up the scoreboard in the first half to stretch the Mustangs lead to 11. The strong first half performance came when McKinney came off the bench for the first time all season. A gritty comeback by the visiting Cardinals nearly pulled the game even at the half, 35-33 (Mustangs).
The second half started with the Mustangs battling their way to a two possession lead most of the way. Once again, the Cardinals somehow put together an impressive comeback. The scoring burst put the Cardinals ahead for the first time since 6-4 early in the first half. The game would spiral out of control for the Mustangs from that point as they suffered their third straight loss, 74-66.
Despite the losses, improvement is a steady theme this season. The 2009-10 version of the Mustangs played with grit and heart. The combination of the two, plus exceptional athleticism, will spell W-I-N-S for the Mustangs in the near future.
The Mustangs were led by guard Marcus Hopkins (Southfield) with 16. Forwards Justin McKinney (Mumford) and DeAundray Armstrong (Community) followed in double-figures with 12 and 11 respectively.
NEXT UP: A road test at NCAA Division II Northwood University. Tip-off is 7pm Wednesday.