Three Honored as WHAC Releases Postseason Awards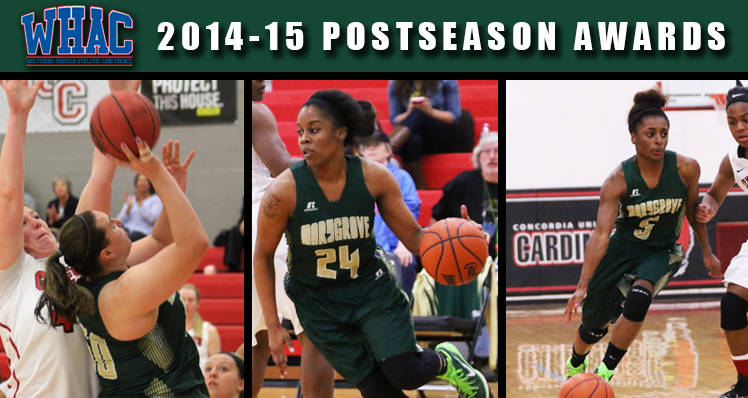 STAY CONNECTED: Facebook | Twitter | Instagram | YouTube
BE THE FIRST TO KNOW:Â Text & Email Alerts
DOWNLOAD OUR FREE APPS:Â iOS (iPhone/iPad)Â |Â Android
WHAC RELEASE
DETROIT — The Wolverine-Hoosier Athletic Conference (WHAC) office announced the 2014-15 women's basketball awards Wednesday (Feb. 25) as the league prepares to tip-off postseason play. This year, seniors Janeesa Jamierson and Raeha Weaver earned spots on the WHAC All-Academic Team, while sophomore Theresa Dray was tabbed as the Mustangs' representative on the conference's Champions of Character Team.
WHAC ALL-ACADEMIC TEAM (minimum 3.25 GPA and junior or above academic standing at Marygrove)
A Battle Creek native, Jamierson transferred to Marygrove prior to the 2013-14 campaign after playing two years for her hometown Kellogg Community College Bears. Since transferring to the four-year, private institution in Detroit, Jamierson has been one of the best for head coach Craig Covington on-and-off the court. With the 2015 WHAC All-Academic honor, Jamierson continues to fill out a strong resumé by adding to her 2014 United States Collegiate Athletic Association (USCAA) Academic All-American award.
The honors, along with a soon-to-be nod on the 2015 USCAA Academic All-American squad, put a cap on a decorated two-year stay at Marygrove for Jamierson. On the court, the senior forward amassed over 350 career points after posting 274 points this season – a total good for second on the team.
Like Jamierson, teammate Raeha Weaver also hails from Battle Creek and transferred to Marygrove after spending two years at Kellogg Community College. Weaver, known as the heart and soul for the Mustangs over the past two seasons, earned her first WHAC All-Academic Team honor after exceeding the criteria of a 3.25 or above cumulative GPA and be a junior or above in academic standing.
On the hardwood, Weaver led the Mustangs to the program's first conference wins this season by averaging a team-best 13.5 points per game while harassing opponents to the tune of 63 steals on the season. The 63-steal campaign lifted the gritty guard to 49th place in NAIA Division II in total steals.
Weaver ended her brief stay as a Mustang with 617 career points, 173 rebounds, 96 steals and 92 assists.
WHAC CHAMPIONS OF CHARACTER TEAM
Dray (Davison, Mich./Davison High School) followed the footsteps of former Mustang and best friend Kaitlyn Pusey by being named the Mustangs representative on the WHAC's Champions of Character Team. Dray was nominated by Covington after the sophomore earned the right as the Mustang who best exemplified the NAIA's Five Core Values of Integrity, Respect, Responsibility, Servant Leadership, and Sportsmanship.
COACH OF CHARACTER
Head coach Craig Covington was also honored by the conference Wednesday. The second-year head coach was named the conference's Coach of Character, alongside Concordia's Thad Sankey, after being nominated for the award by his coaching peers.
WOMEN'S BASKETBALL CONTACT: Tim Johnston |Â @tjohnston56
MARYGROVE BROADCASTS: Mustang Sports Network | Twitter
SOCIAL MEDIA:Â Women's Basketball on Twitter