Men's Golf Adds 2015 Talent, Signs Dundee's Trent Moody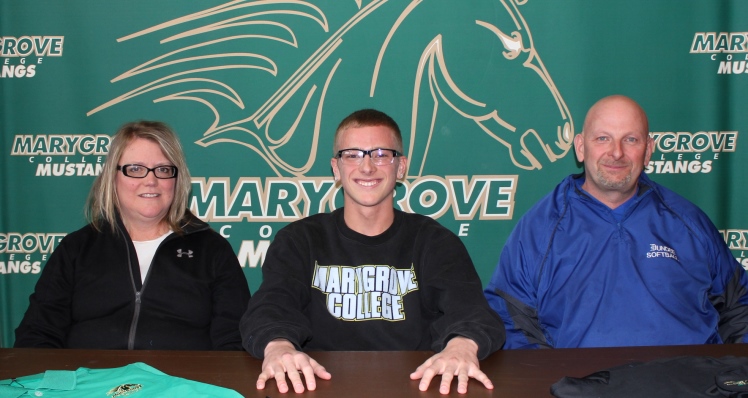 STAY CONNECTED: Facebook | Twitter | Instagram | YouTube
BE THE FIRST TO KNOW:Â Text & Email Alerts
DOWNLOAD OUR APPS:Â iOS (iPhone/iPad)Â |Â Android
DETROIT — The Marygrove College men's golf team picked up its first official commitment of the 2015 class Tuesday (Mar. 10) with the signing of Dundee High School's Trent Moody to a Letter of Intent. Moody signed the Letter of Intent to continue his education and athletic career at the Detroit-based NAIA institution one day after finishing a highly-successful senior season on the hardwood for the Vikings.
Moody, a two-sport standout at Dundee, inked a 2015-16 Letter of Intent to join head coach Frank McAuliffe and the growing Mustangs golf program in Detroit next season. On the course, Moody was a Lenawee County Athletic Association (LCAA) First Team selection as a junior while helping the Vikings to an appearance in the 2014 regionals. The regionals appearance was the second in as many seasons for Moody and the Vikings. In his first season on varsity, Moody – a sophomore at the time – helped lead the Vikings to the LCAA League Championship.
The upcoming 2015 golf campaign will be his third on varsity as Moody and the Vikings aim for another conference and district crown.
Showcasing his all-around ability, Moody earned LCAA Second Team honors in 2014-15 and a nod on the conference's honorable mention squad in 2013-14 on the basketball court. The 5-10 combo guard played four seasons of varsity basketball for the Vikings – a path similar to current Mustang golfer and former men's basketball standout, Jimmy Stewart.
COACH McAULIFFE'S TAKE
"Trent is a solid ball striker that will make an immediate impact on our team," said McAuliffe. "He will join a talented unit that is poised for a breakout season in 2015. We are excited about his future at Marygrove and look forward to coaching him for the next four seasons."
GOLF CONTACT: Tim Johnston | [email protected]/* */ | @tjohnston56
MARYGROVE BROADCASTS: Mustang Sports Network | Twitter
FOLLOW THE TEAM 24/7:Â Twitter