Inaugural Home Tilt Moved to Siena Heights Wednesday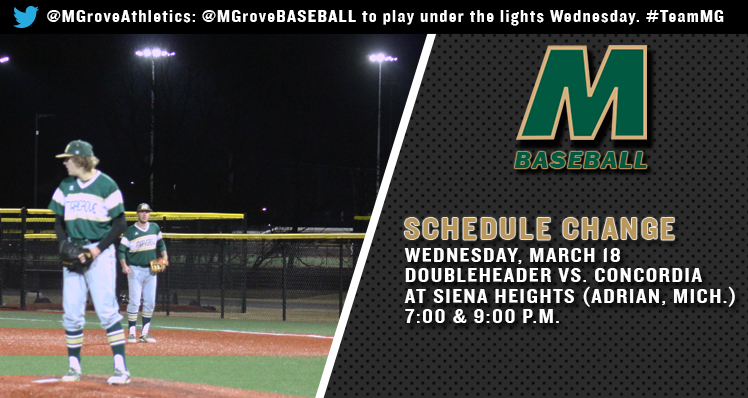 STAY CONNECTED: Facebook | Twitter | Instagram | YouTube
BE THE FIRST TO KNOW:Â Text & Email Alerts
DOWNLOAD OUR APPS:Â iOS (iPhone/iPad)Â |Â Android
DETROIT – Well played, Mother Nature, you win again! Wednesday's (March 18) home game with Concordia-Ann Arbor, originally slated for a 2 p.m. start in Livonia, Mich., has been moved to a 7 p.m. start on the campus of Siena Heights University in Adrian, Mich. due to ongoing concerns regarding the Mustangs' natural surface field. Acting as the inaugural home games in program history, the Mustangs (1-10) will host the Cardinals (4-12) immediately following Siena Heights' doubleheader with Madonna to give the Green and Gold their third taste of "under the lights" baseball in 2015.
The Mustang Sports Network will travel with the team to produce the first live video stream in program history Wednesday beginning with the marygrovemustangs.com pregame show at 6:50 p.m. Catch all the action live on marygrovemustangs.com/live as Jeremy Otto and Jimmy Stewart bring you every pitch of the home and Wolverine-Hoosier Athletic Conference (WHAC) opener for Marygrove baseball.
Weekly notes for the Mustangs battle with Concordia and weekend series at Madonna will be posted Tuesday (March 17).
TEASER: BROADCAST INTRO
BASEBALL CONTACT: Tim Johnston | [email protected] /* */ | @tjohnston56
MARYGROVE BROADCASTS: Mustang Sports Network | Twitter
FOLLOW THE TEAM 24/7:Â Twitter