Men's Golf Opens Spring Season With Sixth Place Finish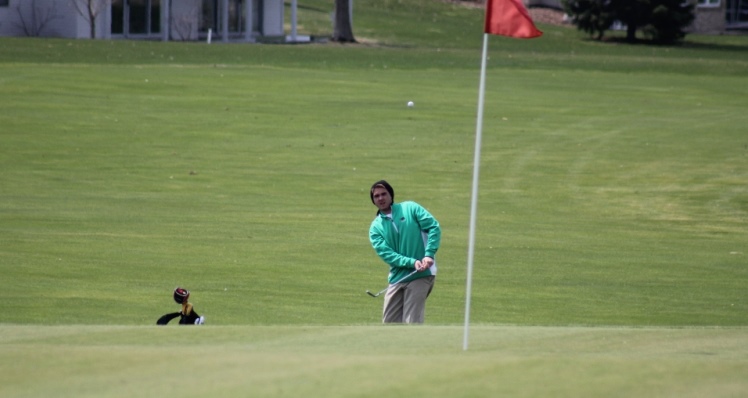 STAY CONNECTED: Facebook | Twitter | Instagram | YouTube
BE THE FIRST TO KNOW:Â Text & Email Alerts
DOWNLOAD OUR APPS:Â iOS (iPhone/iPad)Â |Â Android
HARROD, Ohio — The men's golf team opened its spring campaign Saturday (March 28) with a trip to Harrod, Ohio to take on the field at the Ohio Northern University Spring Equinox Classic. The Mustangs core of Michael Kanalas, Tyler Newell and Jimmy Stewart was joined newcomer Austin Valentine (Westland, Mich./Concordia-Ann Arbor) as the growing program looks to take another step forward before an expected full slate and full, talented roster in the fall of 2015.
Newell (Livonia, Mich./Dearborn Divine Child High School), one of three sophomore returners on the Mustangs squad, led the Green and Gold in the spring opener with a round of 85Â (+13). The 85Â was a solid start for Newell as he and the rest of the field battled bitter conditions. Newell was followed closely by Kanalas (Rives Junction, Mich./Jackson Northwest High School) who shot an 87 to finish in 24th place.
Two shots off his teammates round, Kanalas finished 15-over to begin his spring season after becoming the clubhouse leader in the fall with a low round of 76 at WHAC Jamboree Four on Oct. 6, 2014.
Stewart, a former standout men's basketball player for the Mustangs, checked in with a 93 amid rough conditions that eventually saw Sunday's day two of the classic cancelled. Stewart fired a low round of 84 in the fall at WHAC Jamboree Two in Grandville, Mich.
Valentine, a current member of the Mustangs soccer team, performed well en route to shooting a 105 in his first collegiate outing.
The Mustangs will return to action Friday (April 3) in Augusta, Mich. for the Shootout at Stonehedge. Hosted by follow WHAC member Lawrence Tech, the shootout will be a two-day event (April 3-4) at Stonehedge North Golf Club.
GOLF CONTACT: Tim Johnston | [email protected]/* */ | @tjohnston56
MARYGROVE BROADCASTS: Mustang Sports Network | Twitter
FOLLOW THE TEAM 24/7:Â Twitter