Kanalas Posts 81, Men's Golf Finishes 12th at Stonehedge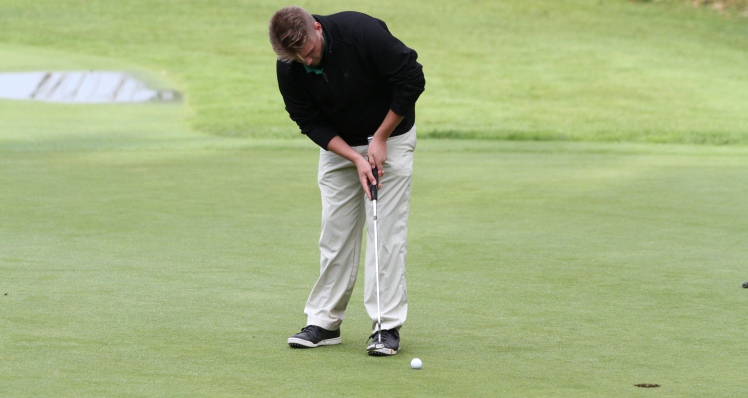 STAY CONNECTED: Facebook | Twitter | Instagram | YouTube
BE THE FIRST TO KNOW:Â Text & Email Alerts
DOWNLOAD OUR APPS:Â iOS (iPhone/iPad)Â |Â Android
AUGUSTA, Mich. — Marygrove men's golf made the most of its final tune up before the 2015 WHAC Championship with a stellar showing on day two of the Shootout at Stonehedge, Saturday (April 4) in Augusta, Mich. The Mustangs checked in with a team score of 348 – tied for 11th with Aquinas on Saturday – to finish in 12th place after two days of action from Augusta.
Austin Valentine (Westland, Mich./Concordia-Ann Arbor) continued his rapid improvement and turned in a final round 91 at Stonehedge North Golf Club on Saturday. The 91 marked a 14-stroke improvement for Valentine since his inaugural collegiate outing on March 27 at Northern Ohio University's Spring Equinox Classic. On Friday, Valentine opened the Shootout at Stonehedge with a 93.
Valentine's step forward was accompanied by fine rounds turned in by sophomores Michael Kanalas (Rives Junction, Mich./Jackson Northwest High School) and Tyler Newell (Livonia, Mich./Dearborn Divine Child High School). Kanalas put together his best round of the spring, checking in with a team-low 81 (+9) to finish with a two-day total of 172, good for a tie for 55th overall.
Kanalas' 81 was the best round of any Mustang through three rounds this spring and five strokes off his collegiate-best of 76 posted on Oct. 6, 2014 at WHAC Jamboree Four. On Saturday, Kanalas fought back from a rough hole to knock in three straight birdies and a pair of pars to finish the second round in Augusta.
Kanalas' solid round was followed up closely with an 85 from Newell. The sophomore from Dearborn's Divine Child High School improved upon his Friday round by 12 strokes to match his previous spring best set on March 27. Newell was able to string together four straight pars to finish four strokes behind fellow sophomore Kanalas Saturday afternoon.
Jimmy Stewart (Punta Gorda, Fla./Charlotte High School) tied Valentine's effort to enter the clubhouse with a final-round 91. On Friday, Stewart checked in with an 85 – his best effort of the spring – to finish with a two-day score of 176. The 176 was four shots off Kanalas' team-leading 172 and six ahead of Newell (182). Valentine followed closely with a 184 after a pair of low-90 rounds.
The Mustangs will take on the rest of the conference field April 16-17 in Fort Wayne, Ind. for the 2015 WHAC Championship. 
GOLF CONTACT: Tim Johnston | [email protected]/* */ | @tjohnston56
MARYGROVE BROADCASTS: Mustang Sports Network | Twitter
FOLLOW THE TEAM 24/7:Â Twitter