WHAC Championship Meet Ahead For Women's Track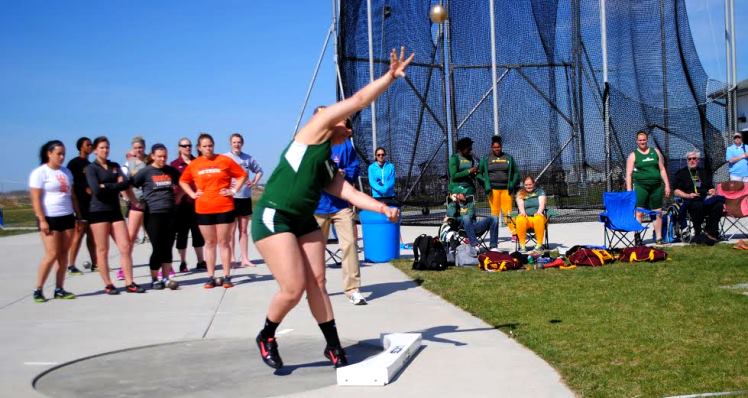 STAY CONNECTED: Facebook | Twitter | Instagram | YouTube
BE THE FIRST TO KNOW:Â Text & Email Alerts
DOWNLOAD OUR FREE APPS:Â iOS (iPhone/iPad)Â |Â Android
DETROIT — It has all led up to this! Marygrove women's track & field, under the direction of first-year head coach Cary Ossiff, will aim to make a statement at the WHAC Championships on Thursday and Friday (April 30-May 1) in Grand Rapids, Mich. after a stellar spring campaign in several throws events. Ossiff's squad may lack the luxury of depth other conference teams have, but the four active members of the coach's throws crew all possess the ability to put team points on the board in various events.
The conference championship returns to historic Houseman Field in Grand Rapids this season after last year's meet was hosted by Siena Heights.
SCHEDULED EVENTS
Discus: Kassadie Dewdney-Sims, Theresa Dray, Amber Staudt and Rachel Staudt
Hammer: Theresa Dray
Javelin: Kassadie Dewdney-Sims, Amber Staudt and Rachel Staudt
Shot Put: Kassadie Dewdney-Sims, Theresa Dray, Amber Staudt and Rachel Staudt
The potential for points is highest in the javelin, an event new to Marygrove women's track & field this season. Sisters Amber Staudt (Novi, Mich./Schoolcraft College) and Rachel Staudt (Novi, Mich./Lawrence Tech) have excelled so far in the javelin, heaving the pointed stick into top-five finishes earlier in the spring campaign.
Rachel and Amber burst onto the scene in the javelin at Alma College's Charlie Gray Invite on April 3, chiming in with throws of 24.83m and 23.39m, respectively. The throws landed the sisters in the top five at the Charlie Gray Invite – the first event of the spring season for the Mustangs.
One week later at the Northwood Open (April 11), Rachel checked in with a PR in the javelin with a toss of 26.46m.
Theresa Dray (Davison, Mich./Davison High School) will enter the discus, hammer and shot put throughout the two-day championship meet. Dray, a sophomore, set a PR in the hammer at Friday's (April 24) Gina Relays with a heave of 36.11m. The PR toss shattered Dray's old mark by more than four meters, set two weeks earlier at the Northwood Open with a toss of 32.08m.
The 36.11m heave on Friday left Dray less than 10 meters off of a top-30 spot nationally – a feat set a mere four events into her young hammer throw career.
In the discus and shot put, the Mustangs will look to Kassadie Dewdney-Sims (Waterford, Mich./Mott High School) to lead the squad. Dewdney-Sims enters the conference championship coming off a 29.10m heave in the discus at last week's Gina Relays.
A full recap of the WHAC Championships will be posted on marygrovemustangs.com once results are made official from Houseman Field.
TRACK & FIELD CONTACT: Tim Johnston | [email protected]/* */ | @tjohnston56
MARYGROVE BROADCASTS: Mustang Sports Network | Twitter
FOLLOW THE TEAM 24/7:Â Twitter