Gittleman, Hartwick Named to WHAC All-Academic Team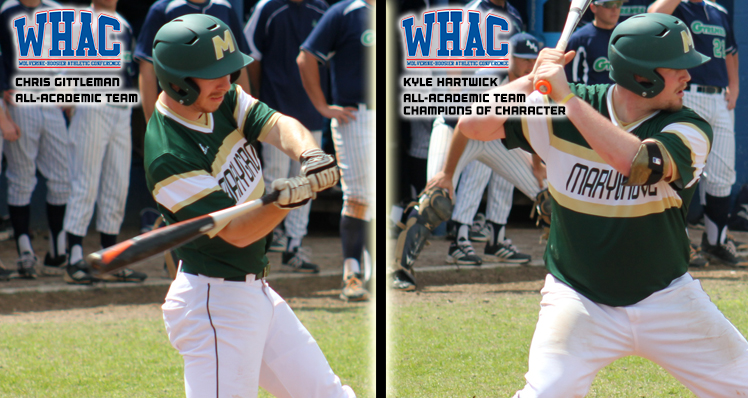 STAY CONNECTED: Facebook | Twitter | Instagram | YouTube
BE THE FIRST TO KNOW:Â Text & Email Alerts
DOWNLOAD OUR APPS:Â iOS (iPhone/iPad)Â |Â Android
WHAC RELEASE
DETROIT — The Wolverine-Hoosier Athletic Conference (WHAC) office released its annual baseball honors Monday (May 4) and Marygrove's Chris Gittleman and Kyle Hartwick walked away with awards to cap off the Green and Gold's inaugural season. Gittleman was named to the WHAC's All-Academic Team while Hartwick earned All-Academic honors and a nod on the conference's Champions of Character Team.
ALL-ACADEMIC TEAM
Gittleman and Hartwick were tabbed All-Academic Team members after exceeding the minimum requirements of a junior or above in academic standing and a cumulative 3.25 or higher grade point average. The student-athletes have been fine representatives of Marygrove baseball in the classroom since their arrival, working hard toward graduation at the four-year private institution situated in northwest Detroit.
On the field, Gittleman (Windsor, Ontario/Trinity Christian College) completed his final season of intercollegiate baseball on a strong note. The senior infielder collected one or more hits in eight of his final 12 games as a Mustang, including a 2-for-5 day in the Green and Gold's 4-3 walk-off victory over Lourdes on May 1.
Hartwick ended the year by reaching safely in nine of his last 11 games, capped off by a red-hot series against Lourdes where the sophomore had five hits and three RBIs. Hartwick, a steady presence at the plate, will go down in history as the player who connected on the walk-off hit to end the 2015 season when the Mustangs topped Lourdes in nine innings, 2-1, on May 2.
CHAMPIONS OF CHARACTER TEAM
Hartwick (Oxford, Mich./Rend Lake CC), a leader on-and-off the field for the Mustangs, was named to the WHAC's Champions of Character Team by head coach Ryan Kottke near the end of the 2015 campaign. Hartwick received the nod as Marygrove's representative on the Champions of Character squad after the sophomore catcher earned the right as the Mustang who best exemplified the NAIA's Five Core Values of Integrity, Respect, Responsibility, Servant Leadership and Sportsmanship.
For more on the NAIA's Champions of Character program, please visit:Â https://www.marygrovemustangs.com/SIDHelp/coc.php
HARTWICK WALK-OFF — FINAL GAME OF 2015
GITTLEMAN HONORED ON SENIOR DAY
BASEBALL CONTACT: Tim Johnston | [email protected]/* */ | @tjohnston56
MARYGROVE BROADCASTS: Mustang Sports Network | Twitter
FOLLOW THE TEAM 24/7:Â Twitter