Marygrove Women's Soccer Signs Arbor Prep's Scott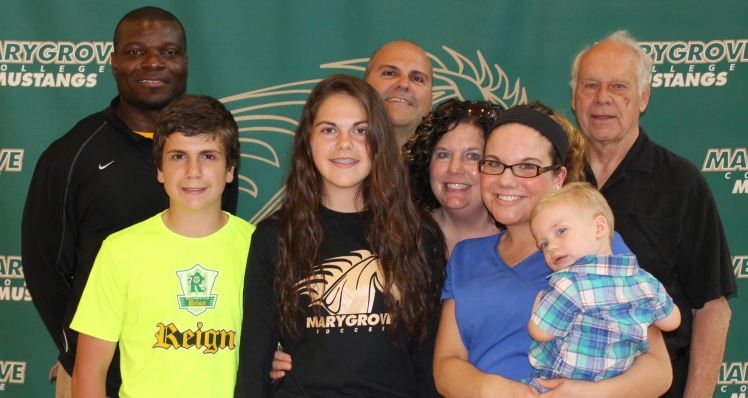 STAY CONNECTED: Facebook | Twitter | Instagram | YouTube
BE THE FIRST TO KNOW:Â Text & Email Alerts
DOWNLOAD OUR APPS:Â iOS (iPhone/iPad)Â |Â Android
2015 SCHEDULE
YPSILANTI, Mich. — First-year head coach Worteh Sampson has made significant progress since taking over the Marygrove College women's soccer helm on April 20. On Thursday (May 7), Sampson continued to rebuild and reshape the women's soccer program by signing Cayleigh Scott, a class of 2015 commit from Ypsilianti's Arbor Preparatory High School.
Wednesday's signing marked the first of many for the women's soccer program under the direction of Sampson.
Scott, a 5-3 center defender, signed a 2015-16 Letter of Intent with family and friends in attendance inside the Arbor Prep Gators' gymnasium. The four-year captain made history Thursday by becoming the first student-athlete from the school's soccer program (boys or girls) to commit to playing at the collegiate level. A hard-working player on the pitch, Scott was named the Gators' Most Valuable Defensive Player as a junior in 2014.
With five games remaining in Scott's high school career, the athletic defender is likely to bring home awards at the culmination of her senior campaign.
At the club level, Scott played for the Westland Arsenal before spending the last five years with the highly-respected Plymouth Reign – an organization coach Sampson has been a part of since 2008.
A well-rounded student-athlete, Scott will graduate with high honors (Summa Cum Laude) from Arbor Prep later this month. The academic focus will fit in nicely with Marygrove women's soccer – a program with the highest team GPA of any Mustang sport in five of the last six years.
ARBOR PREP COACHING STAFF'S TAKE (HEAD COACH ERIN RICHARDS / ASST. COACH LACEY HOFFMAN)
"Cayleigh is a tremendous leader on-and-off the field," said Arbor Prep head coach Erin Richards. "Over the last four years, Cayleigh has demonstrated the ability to overcome adversity; her example has shown others to do the same. She is an irreplaceable part of the Arbor Prep soccer team and will be a great asset to Marygrove College!"
COACH SAMPSON'S TAKE
"Cayleigh is an outstanding young lady," said the new Marygrove head coach. "She is a phenomenal athlete who will make an immediate impact on our team as a freshman. I am very excited Cayleigh picked Marygrove. Cayleigh's signing marks a huge first step for our program as we aim to bring in a deep, talented class in an attempt to build a champion once again at the College."
WOMEN'S SOCCER CONTACT: Tim Johnston | [email protected] /* */ | @tjohnston56
MARYGROVE BROADCASTS: Mustang Sports Network | Twitter
FOLLOW THE TEAM 24/7:Â Twitter