Marygrove Basketball Signs Ida's Nick Maviglia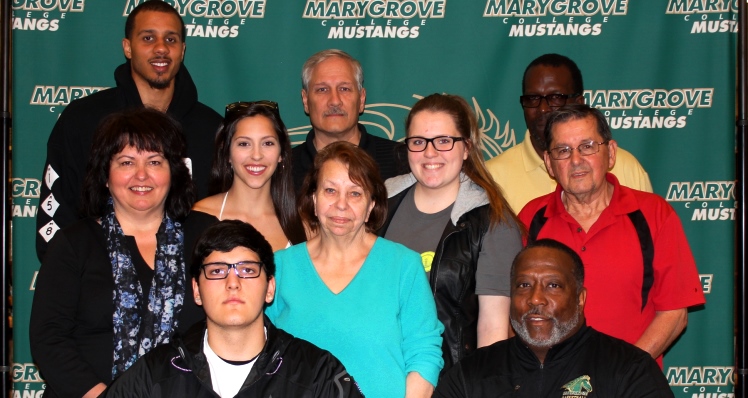 STAY CONNECTED: Facebook | Twitter | Instagram | YouTube
BE THE FIRST TO KNOW:Â Text & Email Alerts
DOWNLOAD OUR APPS:Â iOS (iPhone/iPad)Â |Â Android
IDA, Mich. – Marygrove College basketball head coach Craig Covington visited Monroe County to ink the first commitment of the 2015 class, signing Ida High School's Nick Maviglia to a 2015-16 Letter of Intent on Wednesday (May 20). Maviglia signed the Letter of Intent with family and friends looking on inside Ida High School's media center as he prepares to continue his academic and athletic careers at the northwest Detroit institution in the fall.
SIGNING PHOTO GALLERY
Maviglia's signing is one of only a few for the 2015 class as Covington welcomes several redshirts into the fold for the upcoming 2015-16 season.
Maviglia, known for his gritty defensive play, will join the Mustangs basketball program after a successful two-year stint on the hardwood for head coach Mike Albring and the Ida High School Bluestreaks. In only two years at Ida, Maviglia etched his name in the record books at the program's all-time leader in blocked shots. The 6-6 big man earned the Bluestreak's Defensive Player of the Year honors at the end of the 2014-15 campaign, culminating a season in which he led Monroe County in blocked shots.
Maviglia's breakout 2014-15 season followed a stellar summer showing with the Toledo-based Ohio Gators basketball organization.
Prior to finishing his high school career at Ida, Maviglia was a member of nearby Dundee High School's basketball program, playing alongside current Marygrove golf commit and friend Trent Moody at the end of the 2012-13 campaign. Maviglia was also a member of the Dundee baseball program for two years before transferring to Ida.
IDA HEAD COACH MIKE ALBRING
"The coaching staff enjoyed having Nick and his family as a part of our program over the past two years. It was a pleasure to coach Nick; he definitely left his mark on the program during his time here. The coaching staff wishes Nick the best of luck at Marygrove and with all of his future endeavors."
MARYGROVE HEAD COACH CRAIG COVINGTON
"Nick brings toughness and a willingness to succeed to our program," said Covington. "He is a strong defensive player with plenty of offensive potential that will bring added size to a balanced frontcourt. We look forward to coaching Nick over the next four years."
FACES IN THE CROWD
KT Maviglia, Nick's sister and current Miss Michigan, was one of many family members in attendance at Wednesday's signing. KT is pictured above alongside family and former University of Michigan men's basketball standout, Jordan Morgan.
MEN'S BASKETBALL CONTACT: Tim Johnston | [email protected]/* */ | @tjohnston56
MARYGROVE BROADCASTS: Mustang Sports Network | Twitter
SOCIAL MEDIA:Â Men's Basketball on Twitter