Marygrove Women's Soccer Inks John Glenn Standout Buck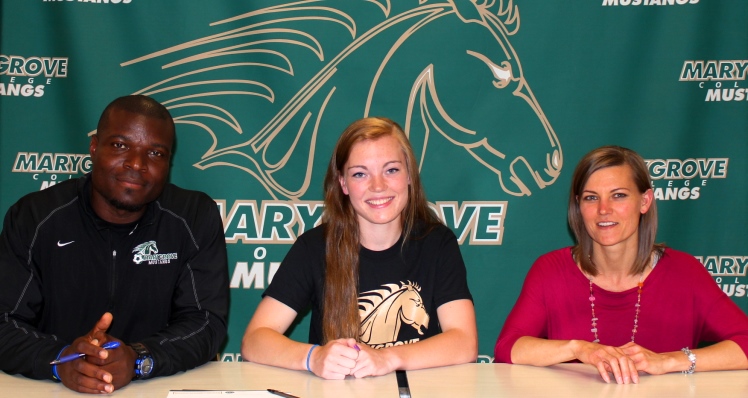 STAY CONNECTED: Facebook | Twitter | Instagram | YouTube
BE THE FIRST TO KNOW:Â Text & Email Alerts
DOWNLOAD OUR APPS:Â iOS (iPhone/iPad)Â |Â Android
2015 SCHEDULEÂ | RAVEN BUCK PHOTO GALLERY
WESTLAND, Mich. — Marygrove women's soccer continued its rebuild Tuesday (May 26) with the signing of Raven Buck, a four-year standout for the Rockets of Westland John Glenn High School. Tuesday's signing marked the second of the 2015 class for new head coach Worteh Sampson as he continues to inject talent into a Mustangs program that is aiming to regain its 2009 United States Collegiate Athletic Association National Championship form.
Buck's signing was preceded by a commitment from Cayleigh Scott, the first soccer player Ypsilanti's new Arbor Prep High School to continue on to the collegiate level. Both Buck and Scott will enter the fall campaign as center defenders and are set to join senior leader Sara Ruch (Oxford, Mich./Oxford High School) in the back next season.
Buck, a four-year starter for head coach Ralph Cabildo's Rockets squad, signed a 2015-16 Letter of Intent to attend the northwest Detroit school in the fall with family and teammates at her side. During her time at John Glenn, the 5-6 athletic defender racked up honors on the field and in the classroom. On the pitch, Buck earned a nod on the Kensington Lakes Activities Association (KLAA) All-Conference Team two years in a row. The All-KLAA appearances were a product of stellar sophomore and junior seasons in 2013 and 2014 for Buck.
For her efforts, Buck earned Team MVP honors at the conclusion of the 2014 campaign and repeated this season after Coach Cabildo made the announcement at her signing Tuesday afternoon – a mere 88 days before the Mustangs open the 2015 season at home against Purdue University-Calumet (Ind.) on August 22 at 3 p.m.
The defender was a prominent member of the Livonia City Soccer Club (LSCS) for three seasons before the organization rebranded to AC Milan last year for her fourth campaign with the club.
Buck enters Marygrove with a 4.0 grade point average (GPA) and is a recipient of a Presidential Scholarship – the highest academic scholarship honor doled out to incoming Marygrove students. The impressive GPA landed Buck on John Glenn's honor roll all four years of her high school career.
COACH SAMPSON'S TAKE
"I had the opportunity to watch Raven play soon after I stepped on as the women's coach at Marygrove," said Sampson. "She was very impressive to watch to say the least, there's no wonder she was named a back-to-back MVP for her squad. Raven is a tenacious defender that is an exceptional organizer as well. She will be able to come in and immediately help us next season, possessing the potential to become a four-year starter for us out of the back."
NOTEWORTHY
John Glenn head coach Ralph Cabildo is the father of former Marygrove men's soccer standout, Alex Cabildo. Relive Alex's game-winning goal on his own Senior Day (2014) here!
WOMEN'S SOCCER CONTACT: Tim Johnston | [email protected] /* */ | @tjohnston56
MARYGROVE BROADCASTS: Mustang Sports Network | Twitter
FOLLOW THE TEAM 24/7:Â Twitter