Men's Basketball Signs Hazel Park's Mamadou Toure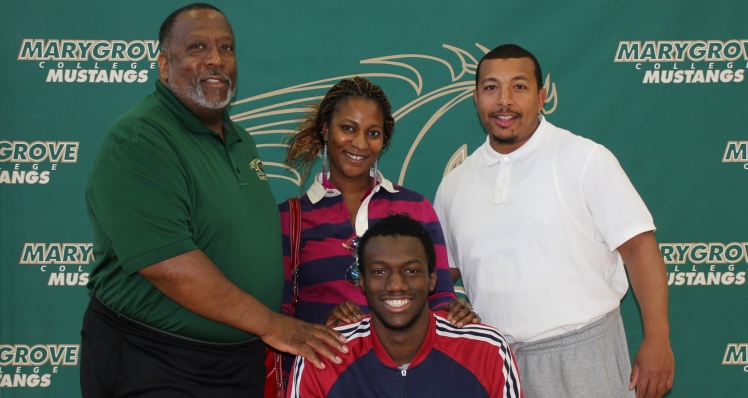 STAY CONNECTED: Facebook | Twitter | Instagram | YouTube
BE THE FIRST TO KNOW:Â Text & Email Alerts
DOWNLOAD OUR APPS:Â iOS (iPhone/iPad)Â |Â Android
PHOTO GALLERY
HAZEL PARK, Mich. — Third-year head coach Craig Covington continued to build a solid 2015 class on Tuesday (June 2) by announcing the addition of Hazel Park's Mamadou Toure as the third commitment in as many weeks for Marygrove men's basketball. Toure inked a 2015-16 Letter of Intent alongside his mother, Hazel Park head coach Brandon Barrett and Covington as he prepares to join the reenergized Mustangs squad next season.
A native of Mali, a country in West Africa, Toure came to the United States with his family when he was 10 years old. From there, Toure and his family moved several times before recently finding a home in southeast Michigan. Toure enrolled at Hazel Park, playing basketball for the Vikings in his lone season at the school.
A 6-3 forward, Toure helped Barrett and the Vikings turn a corner this year, improving by three wins from 2013-14 to 2014-15 according to the MHSAA site. Under Barrett's leadership, the Vikings Toure is also a standout on the pitch and may see time as a member of the Marygrove men's soccer program.
HAZEL PARK HEAD COACH BRANDON BARRETT
"M.T. [Mamadou] was a solid player for us this season," said Barrett. "He is constantly working to become a better player and is a guy that loves to be in gym. He has a ton of upside and I look forward to seeing how he progresses against fellow NAIA competition."
COACH COVINGTON'S TAKE
Mamadou brings a much-needed defensive mindset and plenty of athleticism," said Covington. "He is an outstanding rebounder on both ends of the floor and we will work hard to develop his game around the basket offensively. Moreover, Mamadou adds toughness to our program, something that has obviously been addressed through every signing this offseason. I look forward to coaching Mamadou and the rest of the team next year."
MEN'S BASKETBALL CONTACT: Tim Johnston | [email protected]/* */ | @tjohnston56
MARYGROVE BROADCASTS: Mustang Sports Network | Twitter
SOCIAL MEDIA:Â Men's Basketball on Twitter