Marygrove Baseball Inks Flint Southwestern's Ferguson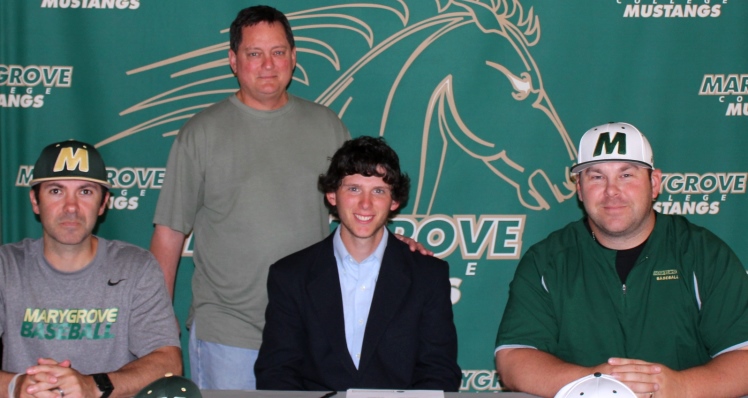 STAY CONNECTED: Facebook | Twitter | Instagram | YouTube
BE THE FIRST TO KNOW:Â Text & Email Alerts
DOWNLOAD OUR APPS:Â iOS (iPhone/iPad)Â |Â Android
PHOTO GALLERY
DETROIT — Make it an even 10 for head coach Ryan Kottke and the Marygrove baseball program! Kottke and the Mustangs added the tenth commit of the 2015 class Tuesday (June 9) when Flint Southwestern Academy pitcher Josh Ferguson inked a Letter of Intent to continue his academic and athletic careers for the Detroit-based NAIA program.
Ferguson officially committed to the second-year program at Flint Southwestern's signing day last week before traveling to the northwest Detroit campus to complete the signing process Tuesday afternoon. Recruited primarily as a pitcher, Ferguson becomes the sixth hurler to join the 2015 class, giving pitching coach Phil Macke added talent to work with for the upcoming season.
The 5-8 pitcher enters the Mustangs program with plenty of experience on the mound and as a catcher/infielder during his three-year varsity career for the Flint Southwestern Knights. This season, Ferguson capped off a dominant 2015 campaign by being named a First Team All-Valley catcher and an All-District infielder – accolades that would eventually lead to Team MVP honors at the end of the season.
Ferguson earned the long list of honors after tossing a pair of no-hitters this season, blanking cross-town rivals Hamady and Northwestern to complete one of the rarer feats in baseball. Ferguson added to his stellar 2015 résumé on the mound by recording a career-best 16 strikeouts against Flint Beecher.
At the plate, Ferguson enjoyed an equally-impressive season by hitting a school-record .557 to go along with 25 runs scored, 20 RBIs and 14 doubles.
COACH KOTTKE'S TAKE
"We are looking forward to getting Josh in [our program] and having him concentrate with Coach Macke and the other pitchers on the staff," remarked Kottke shortly after the signing. "Josh has proven to be a very athletic player throughout his high school career, showcased by his accomplishments on the mound and at the plate. He will fit in with our current players well because he is the type of young man that wants the ball and wants to be on the field as much as possible. We look forward to coaching Josh and getting him into our strength program where he can add more weight, strength and velocity."
BASEBALL CONTACT: Tim Johnston | [email protected]/* */ | @tjohnston56
MARYGROVE BROADCASTS: Mustang Sports Network | Twitter
FOLLOW THE TEAM 24/7:Â Twitter