Taylor Gains Valuable Experience in Costa Rica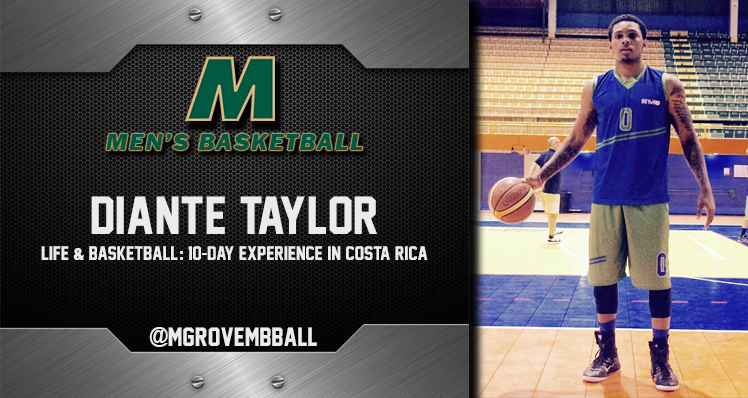 DETROIT — Diante Taylor has been one of the key components of Marygrove men's basketball ever since committing to the program at Battle Creek Central High School on March 16, 2012. More than three years later, Taylor has been preparing rigorously for his senior year on the hardwood for the Mustangs by gaining valuable experience both on-and-off the court over the summer months.
Recently, Taylor (Battle Creek, Mich.) enjoyed an experience of a lifetime after being invited to participate in the Third Annual Beyond Sports Costa Rica Basketball Tour, an event that gathered some of the country's top talent to compete against the Costa Rica National Team and top club teams from June 24 tough July 3.
While in Costa Rica, the Mustangs' 6-3 guard joined a team of all-conference honorees and statistical leaders from colleges across the country to not only compete, but also help facilitate sports clinics for the Costa Rican youth in San Jose and the Special Olympics of Costa Rica.
During the tour, Taylor and the group of student-athletes also visited Manuel Antonio National Park (below, left) and Volcano Arenal (below, right), zip-lined through the rainforest and encountered native wildlife.
The off the court experiences will remain with Taylor for a lifetime.
"It was a very humbling experience and I am very grateful to have taken in such an opportunity," remarked the senior guard.  "It was the best experience of my life. I was able to enjoy new things, including surfing and zip-lining after the competition was done for the day. The trip also made me very thankful for the opportunities we have here because many of the people in the Costa Rican region we visited live in poverty and have to face adversity unparalleled to what most of us encounter here every day."
This season, Taylor will look to guide the Mustangs to their first ever Wolverine-Hoosier Athletic Conference (WHAC) playoff appearance while also attempting to reach milestones of his own. With 1,286 career points heading into the 2015-16 campaign, Taylor is 447 points shy of breaking the Mustangs' all-time scoring record.
Taylor has surpassed the 430-point mark in each of the last two seasons, including a career-best 16 points per game and 481 total points as a sophomore in 2013-14.
Beyond Sports, founded in 2010, is the first study abroad program designed specifically for student-athletes. To date, the organization has hosted student-athletes from over 140 different colleges across the country through various programs in Costa Rica.
                                         
MEN'S BASKETBALL CONTACT: Tim Johnston | [email protected] /* */ | @tjohnston56
MARYGROVE BROADCASTS: Mustang Sports Network | Twitter
SOCIAL MEDIA:Â Men's Basketball on Twitter