Second Half Collapse Thwarts Mustangs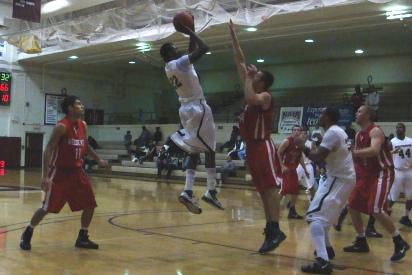 HOLLAND, Mich.-A second-half meltdown led to a 85-75 defeat at the hands of the Ohio Dominican Panthers on Friday night. The game was the first of two for the Mustangs at the 2009 Holland Sentinel Tournament at Hope College.
Heading to the break with a 31-28 lead, the Mustangs seemed to be poised for the third victory of the season. The Panthers (4-6) had other plans. The Association of Independent Institutions (A.I.I.) rival scorched the nets for 57-second half points to outscore the Mustangs, 85-75. The loss drops the Mustangs to 2-10 this season.
Junior forward Justin McKinney (Mumford) turned in another great game for the Mustangs with 20 points, 11 rebounds, and three blocks. Sophomore guard Marcus Hopkins (Southfield) followed with 17 points and 7 assists. Bloomfield Lahser's Mike Jackson had his best game as a Mustang with 13 points and 7 rebounds.
The Mustangs take on Purdue University-North Central at 1pm tomorrow in the consolation game of the Holland Sentinel Classic. The two teams met last year in the semi's only to see the Mustangs cruise to the championship round.