Volleyball Drops Two Matches on Day Two of ACU Classic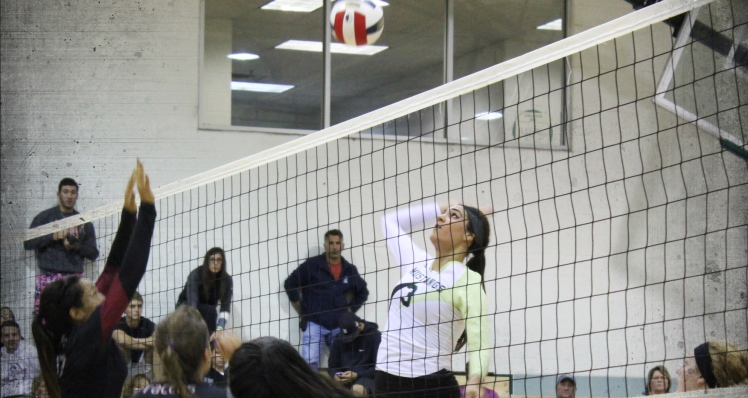 STAY CONNECTED: Facebook | Twitter | Instagram | YouTube
BE THE FIRST TO KNOW:Â Text & Email Alerts
DOWNLOAD OUR APPS:Â iOS (iPhone/iPad)Â |Â Android
**Official stats/stat files not available at the time of release**
PHOENIX, Az. — A day after celebrating a season-opening sweep, fourth-year head coach Jamie Baker and the Marygrove volleyball team suffered a pair of setbacks on Friday (Aug. 21) in day two of the Arizona Christian Classic from Phoenix, Az. The Mustangs (1-2) battled all day, eventually dropping hard-fought matches to Faulkner (Ala.) and the host Arizona Christian Firestorm (2-1).
The Green and Gold fell in four sets in each of their matches Friday afternoon.
Day two action from Phoenix got off to a great start with a 25-23 set-one win over a very strong Faulkner team. The first set victory kept the Mustangs 2015 slate unblemished at the moment, but Faulkner powered back to win three straight and take the match.
Rachel Staudt (Novi, Mich./Novi High School), who moved to the right side prior to Friday's opening tilt, was impressive throughout the first match en route to amassing a team-high12 kills. Staudt was moved to give the Mustangs a highly effective right side option, opening a big role in the middle for sophomore Paige Hughes (Belleville, Mich./Huron High School).
Hughes stepped into the role and played at a high level for the second consecutive day, posting eight kills to follow closely behind Ashley Murphy (Southfield, Mich./Clarenceville High School) who checked in with 11 kills of her own. Junior setter Hayley Jury (Plymouth, Mich./Ladywood High School) was a bright spot for the Mustangs once again after adding 31 assists and 13 digs. Jury was active all around, chiming in with six kills as well in Friday's opening match against Faulkner.
Dig leaders in the match against Faulkner were Erica Wilson (Warren, Mich./Macomb CC) with 24, Jury (13) and Murphy (9).
The Mustangs battled again in the latter match of the day, losing the final two sets of the evening by a combined four points. Murphy and [Rachel] Staudt tied for the team lead in kills with 13, while Hailey Brandes (Southgate, Mich./Anderson High School) and Alixandria Pappas (St. Clair Shores, Mich./Lakeview High School) chipped in with six and five kills, respectively.
Jury one-upped her performance from the first match to post a season-high 40 assists in the four-set loss to the hots Firestorm. Wilson, Amber Kelly (Mt. Morris, Mich./Mt. Morris High School) and Amber Staudt (Novi, Mich./Novi High School) combined for 42 digs in the nightcap.
The Green and Gold wrap up Phoenix play Saturday (Aug. 22) with a pair of matches. The final day of competition out west begins with a 1 p.m. ET matchup with Benedictine-Mesa (Calif.) and concludes at 5 p.m. ET opposite Embry-Riddle (Az.).
WOMEN'S VOLLEYBALL CONTACT: Tim Johnston | [email protected]/* */ | @tjohnston56
MARYGROVE BROADCASTS:Â The Mustang Sports Network (MSN)Â |Â MSN Twitter
WOMEN'S VOLLEYBALL:Â Twitter