Hopkins Career-High 35 Leads Mustangs to Win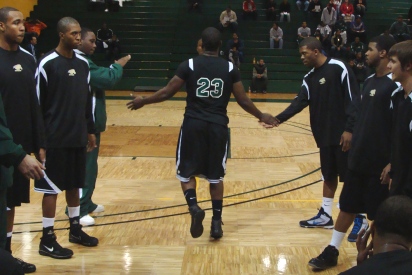 HOLLAND, Mich.-The Mustangs had little time to shake off a heartbreaking loss to Ohio Dominican University in the opening round of the Holland Sentinel Tournament. In fact, they had 16 hours to refocus for the Panthers of Purdue-North Central.
The Panthers raced out to an 11-2 lead before the Mustangs (2-10) broke a sweat. Their lead would grow to as many as 10 points with a 17-7 advantage before the Mustangs took control of the neutral court NAIA showdown.
A furious comeback, led by sophomore guard Marcus Hopkins, would see the Mustangs cruise to a 33-7 run over the last 13-minutes of the first half. Hopkins 20-point half (8-of-11 FG) led the Mustangs into the break with a 40-24 lead.
Hopkins paced the Mustangs first-half comeback, but Jamie Guyton (Detroit, Mich.) gave the Mustangs the spark needed to lift the team back. Guyton took a Hopkins dish to the rack for an emphatic slam with 7:23 remaining in the first stanza. The dunk highlighted the best stretch of basketball the Mustangs have played this season.
After the rocky start, the Mustangs turned the game around with strong defense and discipline on the glass. Justin McKinney cleaned the glass for eight boards, while Mike Jackson pulled down seven in the half.
The second half began with more lockdown defense from the Mustangs. In all, the team held the Panthers without a field goal for 13:10 stretching from just under nine minutes to play in the first. The Mustangs would take the large cushion (led by as many as 22) built from defense and turn in into a 77-63 victory.
Hopkins torched the Panthers on his way to a career-high 35 points (12-of-20 FG). The total eclipsed his previous high of 32 points on 03/06/2009 against Indiana University-Northwest at the USCAA National Tournament. Justin McKinney narrowly missed another double-double with 14 rebounds and 8 points. Eric Johnson (Southfield, Mich.) notched double-figures with 10 points.
The Mustangs will take the week to prepare for next Saturday's matinee match up with Alma. The Scots (NCAA D3) welcome the Mustangs to town at 3pm on 12/19. The Mustangs freshman squad will tip-off against Alma's JV at 1pm.