Mustangs Drop Two in Indy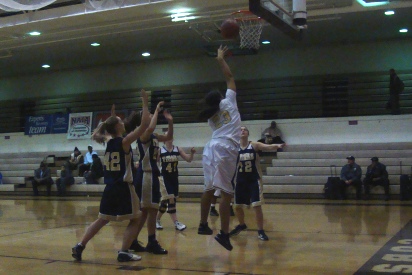 WHITING, Ind.-The Lady Mustangs traveled to Whiting, IN for the 2009 Crimson Wave Invite at Calumet College of St. Joseph's. The Mustangs dropped the opener to host CCSJ (77-41) to pin them against Mid-Continent in the consolation game. That contest ended in a last second 60-58 defeat.
In game one, the Mustangs squared off against tournament host Calumet-St. Joe's. A slow start, combined with poor shooting, put the Mustangs down by 15 at the break. The second half saw much improvement, but the hole was too big to climb out of as the visiting Mustangs were downed, 71-44.
The loss placed the Mustangs in the third place game against winless Mid-Continent University (KY). A seesaw battle to start was eventually controlled by the Mustangs before disaster struck. Up six points with only minutes remaining the Mustangs were poised for their sixth victory of the season.
However, the Cougars had other things in mind. A Cougar 3-pointer tied the game just under a minute to play. The Mustangs next possession came up dry and the Cougars took over. A well designed play landed the Cougars an easy layup with 10-seconds remaining in the game. A last second attempt fell short as the Cougar heroics upended the Mustangs, 60-58.
Keara Marks (Detroit Renaissance) was named to the 2009 Crimson Wave All-Invite Team.
The Mustangs (5-5) return home for the holidays for an extended break. The next contest will not be until December 29th when the 'Stangs travel to play in the Walsh (OH) Holiday Tournament.