Women's Soccer Loses Non-Conference Tilt in Illinois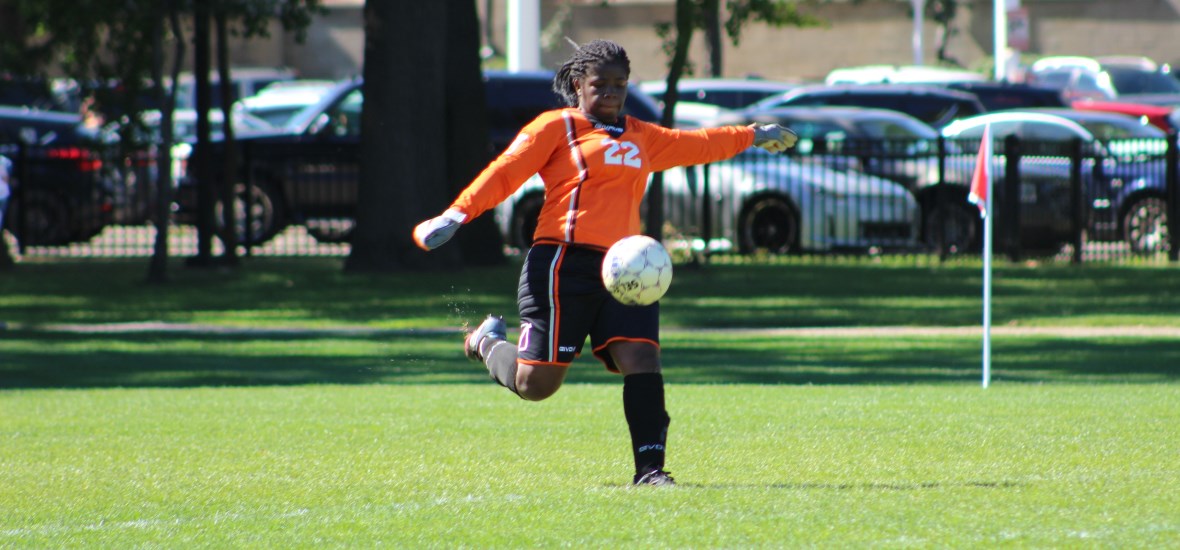 STAY CONNECTED: Facebook | Twitter | Instagram | YouTube
BE THE FIRST TO KNOW:Â Text & Email Alerts
DOWNLOAD OUR APPS:Â iOS (iPhone/iPad)Â |Â Android
**Official stats not available at the time of release**
PALOS HEIGHTS, Ill. — The Marygrove women's soccer team lost the game, 12-0, and lost a few players to injury in the process on Friday (Sept. 11) opposite Trinity Christian College in Palos Heights, Ill. The Mustangs now sit at 0-4-0 to begin the 2015 campaign while the Trolls of Trinity Christian move to 4-1-0 with the victory.
The Mustangs' keeper Henrietta Addo (Ghana, West Africa/Henry Ford Community College) was under fire the entire contest, recording 11 saves despite taking the loss in the non-conference contest.
Trinity Christian found the back of the net for the first time in the 2nd minute as Cassidy Bosselaar beat Addo from inside the box. The goal came 63 seconds into the contest and was the first of seven first half goals for the host Trolls.
The Trolls would tack on five more in the latter half to win their fourth game in five outings this season.
UPDATE
The Mustangs game at Saint Francis (Ill.) scheduled for Saturday (Sept. 12) has been postponed. The coaching staffs from both teams are currently working toward a make-up date later in the season. Stay tuned to marygrovemustangs.com for the latest schedule information.
NAIA No. 2 Northwestern Ohio is next on the schedule for the Mustangs on Sept. 26. The game will mark the WHAC opener for both teams.
WOMEN'S SOCCER CONTACT: Tim Johnston | [email protected]/* */ | @tjohnston56
MARYGROVE BROADCASTS: Mustang Sports Network | Twitter
FOLLOW THE TEAM 24/7:Â Twitter