Weekly Notes: Two Home Matches on the Slate This Week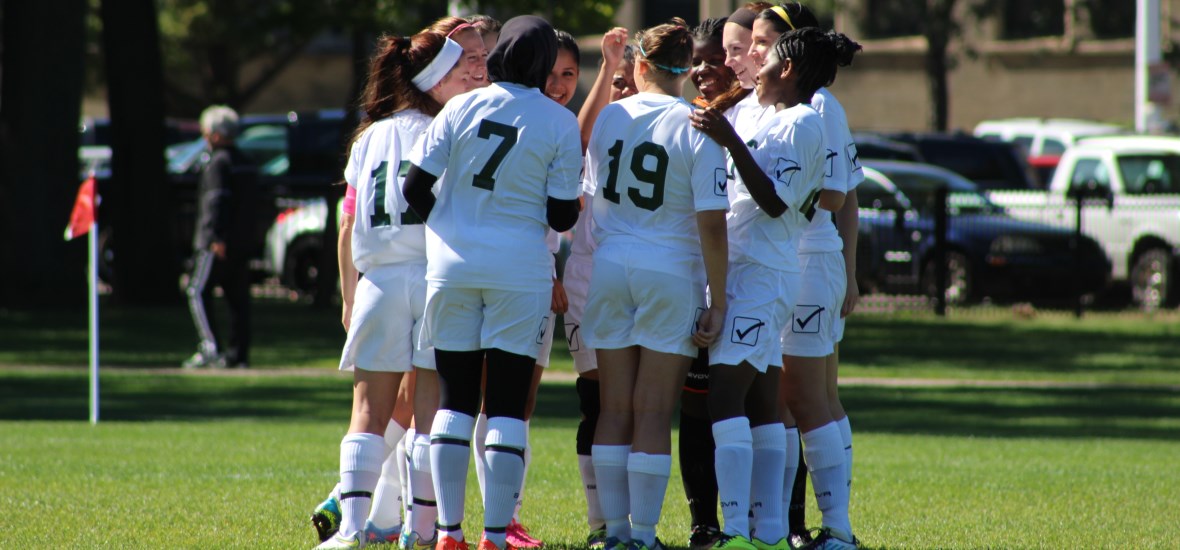 CLICK HERE FOR THE COMPLETE VERSION OF WEEK FIVE'S GAME NOTES (PDF)
WEDNESDAY, SEPTEMBER 30
Marygrove (0-4-0, 0-0-0 WHAC) vs. Concordia-Ann Arbor (6-3-1, 2-0-0 WHAC)
Time: 1 p.m.
Location: Marygrove Soccer Field — Detroit, Mich.
Coverage: Live Video, Audio and Stats (Coverage begins at 12:45 p.m.)
SATURDAY, OCTOBER 3
Marygrove (0-4-0, 0-0-0 WHAC) vs. Lawrence Tech (3-5-0, 0-1-0Â WHAC)
Time: 12Â p.m.
Location: Marygrove Soccer Field — Detroit, Mich.
Coverage:Â Live Video, Audio and Stats (Coverage begins at 11:45 a.m.)
BY THE NUMBERS
1:Â Did you know the Marygrove women's soccer program has won one (1) national title? In 2009, the Mustangs' women's soccer squad put together a remarkable campaign, going 10-4-2 overall on their way to win the United States Collegiate Athletic Association National Championship. The title run, improbably, would come in the program's inaugural season.
5: The Mustangs lost a substantial amount of experience due to graduation last season. In all, five (5) Mustangs were lost to graduation or expired eligibility, including the program's all-time leading scorer Cheyenne York. In four seasons, York amassed an impressive 24 goals and 11 assists in 76 games. York accounted for eight of the Mustangs 12 goals in 2014.
3:Â The Mustangs have tallied three (3) goals through their first four games of the 2015 slate. The three-goal start ties for the most goals over the first four games of a season since 2012 when the Green and Gold topped Bethel (Ind.), 2-0. The most goals through the first four games of a season is six in 2011 after the Mustangs topped Concordia, 2-0, to kick-start the campaign.
WHERE THEY STAND
First-year head coach Worteh Sampson and the Mustangs enter the week in a tie for sixth place in the WHAC, sitting idle at 0-0-0 alongside Madonna and NAIA No. 3 Northwestern Ohio. Overall, the Mustangs are 0-4-0 and remain the lone team in the WHAC without a victory on the season. The Mustangs face the conference's first place team, Concordia-Ann Arbor, and Lawrence Tech at home this week.
RUCH ENJOYSÂ TWO-ASSIST MATCH
Senior defender Sara Ruch (Oxford, Mich./Oxford High School) found teammate Allison McDowell twice on Sept. 5 against Bluffton, earning the first multi-assist/multi-point game of her three-plus year career in a Green and Gold uniform. The two-assist game doubled Ruch's career assist total (two in 2013), giving the senior defender four assists and four total points for her career.
MCDOWELL NETS TWO GOALS
Now that's how you make a first impression! Freshman midfielder/forward Allison McDowell (Novi, Mich./Novi High School) made her presence known on Sept. 5 by posting two goals against NCAA Division III opponent Bluffton (Ohio). The goals came late in the contest as McDowell tucked a pair of tallies past the Bluffton keeper thanks to assists from senior defender Sara Ruch. The goals were the first two of McDowell's career, coming in the freshman's second game at the collegiate level.
SENIOR DAY IS SATURDAY!
With only three home matches remaining after Wednesday's WHAC tilt opposite (RV) Concordia-Ann Arbor, the Mustangs will host Senior Day 2015 after Saturday's (Oct. 3) showdown with nearby foe, Lawrence Tech. Join us as we celebrate the careers of Brandy Lynch, Sara Ruch and the rest of the class!
DID YOU KNOW?
Head coach Worteh Sampson has Wolverine-Hoosier Athletic Conference (WHAC) playing experience as well. Sampson played two seasons at neighboring Madonna University.
A LOOK AT CONCORDIA-ANN ARBOR
The Cardinals are receiving votes in the latest NAIA Coaches' Poll after dismantling their first two WHAC opponents, Davenport and Lawrence Tech, by 4-0 and 2-0 final tallies, respectively. With a 6-3-1 record overall, the Cardinals are off the one of the best starts in program history behind strong play from Julia Palushaj with nine goals (18 points) through 10 matches played. Four of Palushaj's nine goals have been game-winning strikes.
A LOOK AT LAWRENCE TECH
The Lawrence Tech Blue Devils enter the week with a 3-5-0 overall record and a 0-1-0 mark in conference play. Lisa Zaffina leads a balanced cast of Blue Devils offensively with three goals, while Alexandra Bryden and Hannah Huff follow with a pair of goals each. The Blue Devils began WHAC play with 2-0 loss to Concordia-Ann Arbor and will have the week off before playing the Mustangs.
SAMPSON CAN RECRUIT!
First-year head coach Worteh Sampson, a former longtime men's soccer assistant coach, was hired in April 2015 to take the helm of the Mustangs women's soccer program. With only two months to recruit while high school students were still in class, Sampson took advantage of the brief time period en route to signing a trio of stellar class of 2015 freshmen, including Raven Buck (Westland, Mich./John Glenn High School), Cayleigh Scott (Westland, Mich./Arbor Prep), and Novi's [Allison] McDowell.
AROUND MUSTANG ATHLETICS
The men's soccer team is home on Wednesday (Sept. 30) for their second WHAC contest of the season as Michigan-Dearborn visits Detroit for a 4 p.m. kick. The Mustang Sports Network will cover the game live on marygrovemustangs.com/live beginning at 3:45 p.m. with the pregame show.
THE MUSTANG SPORTS NETWORK (MSN)
The MSN is back for another year of live video on marygrovemustangs.com/live, this time with expanded coverage including multiple cameras and added talent!
STAY CONNECTED: Facebook | Twitter | Instagram | YouTube
BE THE FIRST TO KNOW:Â Text & Email Alerts
DOWNLOAD OUR APPS:Â iOS (iPhone/iPad)Â |Â Android
WOMEN'S SOCCER CONTACT: Tim Johnston | [email protected]/* */ | @tjohnston56
MARYGROVE BROADCASTS: Mustang Sports Network | Twitter
FOLLOW THE TEAM 24/7:Â Twitter