CUAA Tops Women's Soccer, Remains Perfect in the WHAC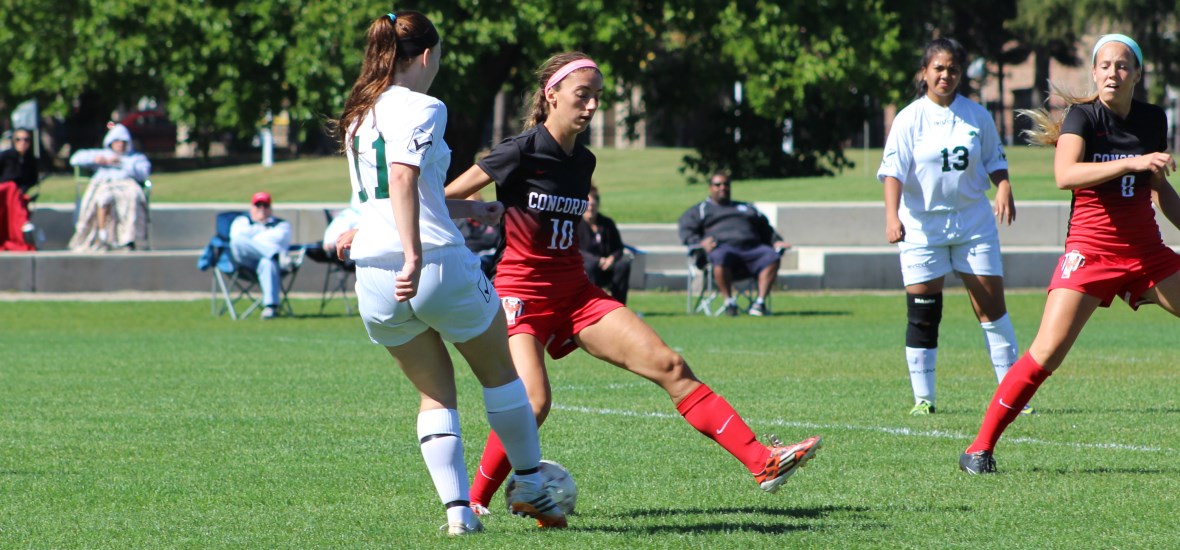 STAY CONNECTED: Facebook | Twitter | Instagram | YouTube
BE THE FIRST TO KNOW:Â Text & Email Alerts
DOWNLOAD OUR APPS:Â iOS (iPhone/iPad)Â |Â Android
DETROIT — Concordia-Ann Arbor protected their clean slate in WHAC play with a 9-0 triumph over the Marygrove women's soccer team on Wednesday (Sept. 30) in Detroit. The Cardinals, a team receiving votes in the latest NAIA Coaches' Poll, proved why they are one of the nation's top teams with a convincing nine-goal victory in Detroit to improve to 7-3-1 overall and 3-0-0 in conference play.
The Mustangs fall to 0-5-0 overall and 0-1-0 in WHAC play after playing their first match since Sept. 11.
The Cardinals were led by one of the WHAC's most productive forwards this season, Julia Palushaj, with an impressive four goals and an assist on the afternoon. Palushaj was followed by Heather Emke who tallied a hat trick in the conference contest.
The pair combined for seven of the Cardinals' nine goals and 15 points on the afternoon.
The Mustangs were paced by freshman defender Raven Buck (Westland, Mich./John Glenn High School) who posted a pair of shots on target in the setback. Buck is one of three talented freshmen on first-year head coach Worteh Sampson's roster this season.
Sampson and the Mustangs return to action Saturday (Oct. 3) with a home conference match against Lawrence Tech at 12 p.m. Saturday's matinee match will also be Senior Day as the Mustangs celebrate the careers of Sara Ruch, Brandy Lynch, Johari Ndaizaye, Farwa Haider and Henrietta Addo.
The Senior Day ceremony will take place immediately following the match on the west side of the field.