Volleyball Begins Weekend With Four-Set Setback at SHU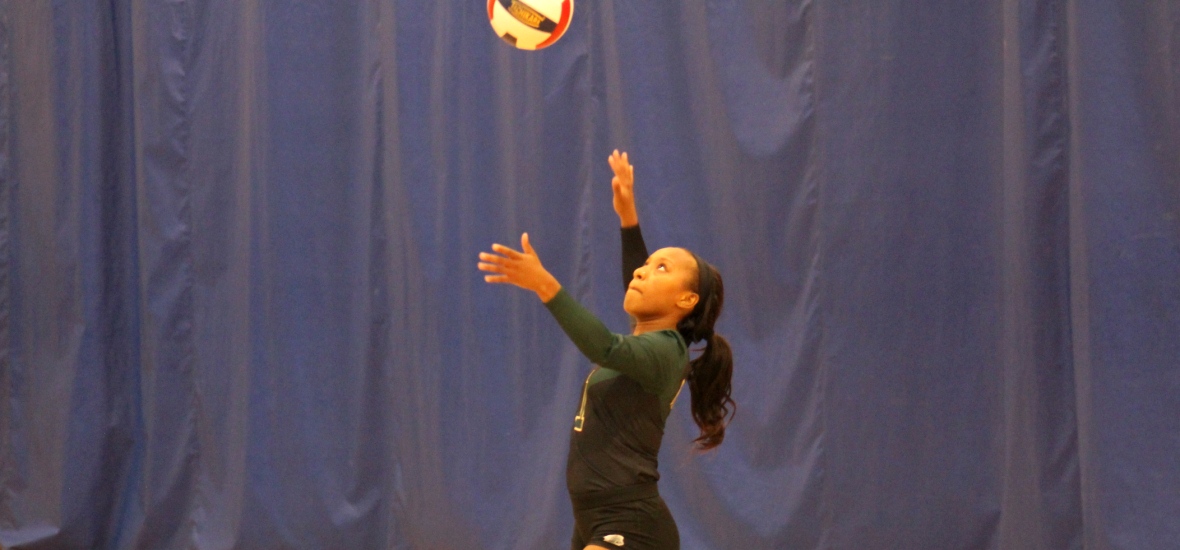 STAY CONNECTED: Facebook | Twitter | Instagram | YouTube
BE THE FIRST TO KNOW:Â Text & Email Alerts
DOWNLOAD OUR APPS:Â iOS (iPhone/iPad)Â |Â Android
ADRIAN, Mich. — The Siena Heights Saints fought off an upstart Marygrove College volleyball team to exit Adrian, Mich. with a 3-1 win in Wolverine-Hoosier Athletic Conference (WHAC) play on Friday (Oct. 2). The Mustangs now stand at 2-16 overall and 0-10 in WHAC play – the team's worst start under fourth-year head coach Jamie Baker – while the Saints inch ahead to 8-6 overall while pulling even in conference play at 5-5.
The Mustangs and Saints split the first sets with the Green and Gold taking a 25-20 advantage in stanza two to send the Friday evening WHAC tilt to an all-important third set. The split after two sets marked the third time in the last five matches the Mustangs were able to draw even after a pair of frames.
After battling back from a 22-17 deficit, the Mustangs could not capitalize on two set points in their favor in a 29-27 third-set loss. With the 29-27 setback, the Mustangs now own a 1-18 record in third-set play during the 2015 campaign.
The Mustangs attempted to push the match to five sets, but a slow start in the next frame lifted the Saints to victory in four sets to begin another weekend of WHAC play for the Green and Gold.
Ashley Murphy's nine kills led the Mustangs in the four-set setback, followed by eight kills from teammate Hailey Brandes (Southgate, Mich./Anderson High School). Murphy (Southfield, Mich./Clarenceville High School) posted a well-rounded night with six digs and two blocks to go along with her team-high nine kills.
Defensively, libero Amber Kelly (Mt. Morris, Mich./Mt. Morris High School) and defensive specialist Erica Wilson (Warren, Mich./Macomb CC) accounted for 31 of the Mustangs' 57 digs. Kelly, the team's leader in digs, had 16 digs while Wilson checked in with 15 of her own.
Alixandria Pappas (St. Clair Shores, Mich./Lakeview High School) tied for the team-lead in block assists with two while slamming down eight kills to post the Mustangs' best hitting percentage (.471) of the night.
The Saints were paced by Leze Vukaj with 17 kills (four errors) on 26 total attacks.
The Mustangs turn around to play Aquinas in Grand Rapids, Mich. Saturday (Oct. 3) at 1 p.m. No in-match coverage is scheduled by Aquinas for Saturday's matinee conference match.
WOMEN'S VOLLEYBALL CONTACT: Tim Johnston | [email protected]/* */ | @tjohnston56
MARYGROVE BROADCASTS:Â The Mustang Sports Network (MSN)Â |Â MSN Twitter
WOMEN'S VOLLEYBALL:Â Twitter