Stunned! No. 2 DU Uses Late Goal to Top Men's Soccer, 1-0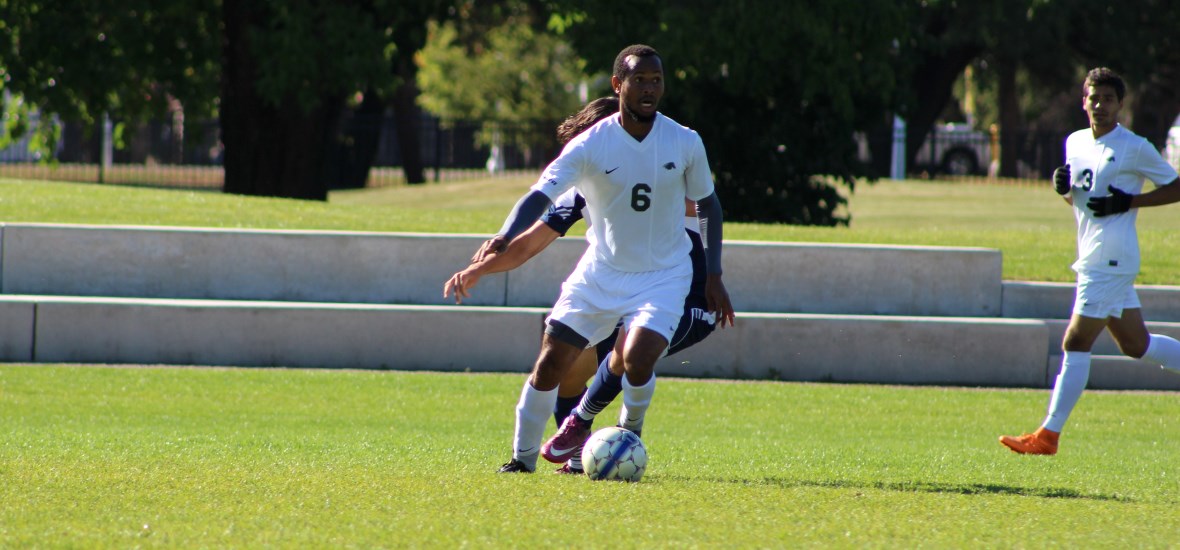 STAY CONNECTED: Facebook | Twitter | Instagram | YouTube
BE THE FIRST TO KNOW:Â Text & Email Alerts
DOWNLOAD OUR APPS:Â iOS (iPhone/iPad)Â |Â Android
GRAND RAPIDS, Mich. — In a matchup of two quality WHAC teams, reigning NAIA national champion and second-ranked Davenport emerged victorious on an 88th minute goal to sun Marygrove men's soccer on a soggy Saturday (Oct. 3) night in Grand Rapids, Mich. The loss is the first of the conference season for the Mustangs (4-5-1, 1-1-1 WHAC) while the host Panthers move to 8-1-1 overall and 3-0-0 in WHAC action with the waning minutes win.
On a night where fall weather made its presence known, the No. 2-ranked Panthers and Mustangs engaged in a highly-competitive defensive battle that saw the teams combined for a mere three shots on goal. The Mustangs owned a 4-3 shots advantage overall through the match's opening 45 minutes as senior captain Abdoulie Jallow (Bansang, The Gambia/Rust College) led the way with a pair of shots.
Gonzalo Caceres (Detroit, Mich./Southwestern High School) produced perhaps the best chance for the Mustangs in the first when his 33rd-minute shot rung off the crossbar and out to the Panthers defense.
The Mustangs would own a 7-4 shots advantage overall and a 5-2 on target edge through 85 minutes, but the Panthers tucked in the game-winner in the 88′ when a loose ball out front was sent home by leading scorer TJ Ifaturoti.
The teams ended the night even in overall shots, 7-7, while the Mustangs took home a 5-3 edge in shots on target in the hard-fought conference affair.
Seventh-year head coach Matt Johnson went with Ayman Youssef (Dearborn Heights, Mich./Walsh University) in the net and the sophomore responded by turning away two Panther shots despite moving to 0-2 on the season in net. The defense was strong in front of Youssef on the rainy night as the Mustangs back half allowed one goal or less for the sixth time in 10 games this season.
Jallow paced the Mustangs with three shots on goal while Caceres and Mario Morana (Sterling Heights, Mich./Macomb CC) were credited for one shot-on-target each.
The Mustangs host Concordia-Ann Arbor on Wednesday (Oct. 7) in Detroit at 4 p.m. Live video, audio and stats will be available on the Mustang Sports Network beginning at 3:45 p.m. on marygrovemustangs.com/live.
MEN'S SOCCER CONTACT: Tim Johnston | [email protected]/* */ | @tjohnston56
MARYGROVE BROADCASTS: Mustang Sports Network | Twitter
SOCIAL MEDIA:Â Men's Soccer on Twitter