Volleyball Outlasted by Rochester in Marathon Match, 3-2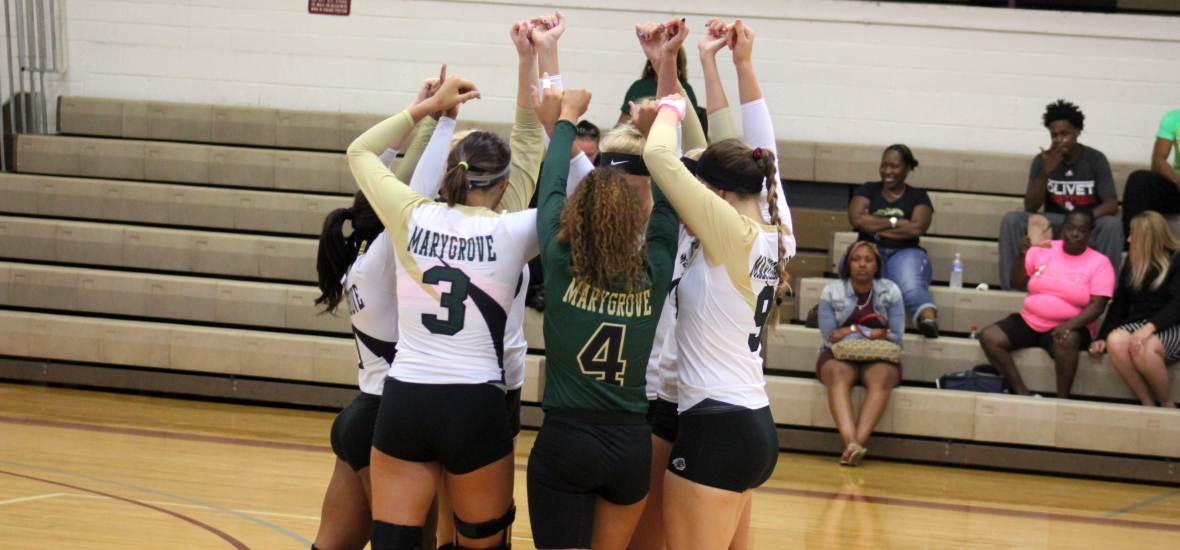 STAY CONNECTED: Facebook | Twitter | Instagram | YouTube
BE THE FIRST TO KNOW:Â Text & Email Alerts
DOWNLOAD OUR APPS:Â iOS (iPhone/iPad)Â |Â Android
ROCHESTER HILLS, Mich. — A match-high 18 kills from Rachel Staudt nearly broke a program record as the Marygrove women's volleyball team came up short in a non-conference marathon match opposite Rochester on Friday (Oct. 9) in Rochester Hills, Mich. The host Warriors (19-15) picked up a senior night win after fending off an upbeat Mustangs (2-19, 0-12 WHAC) squad that forced the match to five sets.
The teams combined for a two-hour match that featured over 300 combined attack attempts due to unrelenting defense on both sides.
After coming back to win the first set, 25-23, the Mustangs fell behind two-sets-to-one behind 25-16 and 25-13 scores in favor the Warriors over the next two frames. Down and seemingly out, the Mustangs battled back to put forth a dominant fourth-set effort thanks to the one-two combo of [Rachel] Staudt (Novi, Mich./Lawrence Tech) and Brenna Donnelly (Yale, Mich./Mott CC).
The pair of former Mott Community College standouts provided the fireworks up front in set four while a service rally from libero Erica Wilson (Warren, Mich./Macomb CC) led a 13-0 run that broke a 5-5 tie and ended in an 18-5 advantage for the Green and Gold.
The Mustangs went on to win the fourth set by the largest margin of the night, 25-11, before allowing the host Warriors to race out to a 6-0 lead in set five. The six-point hole was too much for the Mustangs to overcome as the Warriors pulled away to win the final frame, 15-10.
Rachel Staudt's 18-kill effort in the five-set non-conference loss ranks as the third most in a single-match in program history, only four behind former Mott Community College teammate Millie Velez's school-record 22 kills.
Donnelly followed Staudt with a team-high .360 on 12 kills while Alixandria Pappas (St. Clair Shores, Mich./Lakeview High School) had a hand in a team-best five blocks in the five-set contest. Hayley Jury (Plymouth, Mich./Ladywood High School) recorded 32 assists and Amber Staudt (Novi, Mich./Schoolcraft College) posted 16 of her own to combine for 39 of the Mustangs' 48 helpers.
Wilson anchored a tough defensive effort with 15 digs and was followed by [Amber] Staudt with 12. Â Jury and Ashley Murphy (Southfield, Mich./Clarenceville High School) combined for 22 digs to round out a balanced defensive night for the Mustangs.
The Warriors (23) committed five less errors than the Mustangs (18), a telling stat when the final score of the fifth and final frame was decided by five points. Paige TenBrink led three Warriors in double-digit kills with 14.
Michigan-Dearborn is up next for the Mustangs at home on Wednesday (Oct. 14). The Mustangs match with the Wolverines will be featured on the Mustang Sports Network beginning at 6:45 p.m. on marygrovemustangs.com/live. Opening serve is set for 7 p.m. inside the University of Detroit Jesuit High School.
WOMEN'S VOLLEYBALL CONTACT: Tim Johnston | [email protected]/* */ | @tjohnston56
MARYGROVE BROADCASTS:Â The Mustang Sports Network (MSN)Â |Â MSN Twitter
WOMEN'S VOLLEYBALL:Â Twitter