Golf's Newell Named WHAC Champion of Character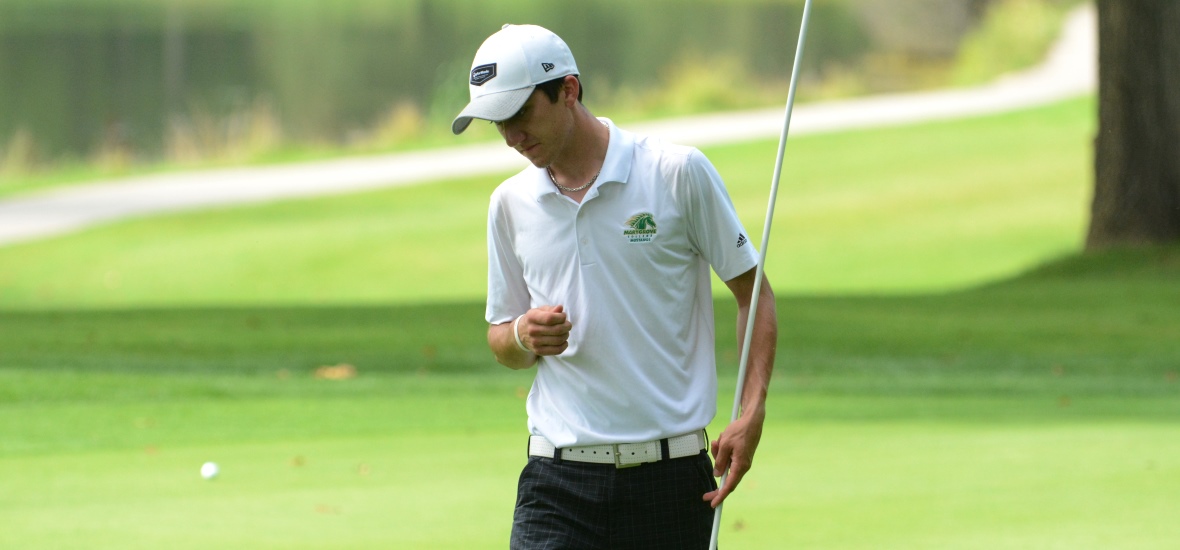 STAY CONNECTED: Facebook | Twitter | Instagram | YouTube
BE THE FIRST TO KNOW:Â Text & Email Alerts
DOWNLOAD OUR APPS:Â iOS (iPhone/iPad)Â |Â Android
ANN ARBOR, Mich. — The Marygrove men's golf team competed in the fifth and final Wolverine-Hoosier Athletic Conference (WHAC) Jamboree of the fall season at Stonebridge Golf Club in Ann Arbor, Mich. on Wednesday (Oct. 14). Playing shorthanded for the fourth jamboree of the fall campaign, the Mustangs' Michael Kanalas and Tyler Newell led the way as the lone golfers for head coach Frank McAuliffe and assistant Ronnie Pollack, Jr.
Newell (Livonia, Mich./Divine Child High School) was named a member of the WHAC's Champions of Character Team at the end of Wednesday's round, joining one student-athlete from each conference school as those who best exemplify the National Association of Intercollegiate Athletics (NAIA) five core values of integrity, respect, responsibility, servant leadership and sportsmanship.
For Newell, the award followed a round of 86 that placed the junior in a tie for 39th overall in the 60-plus player field. Newell's best fall round of 78 set at WHAC Jamboree Four on Sept. 18 would have landed him a top-20 spot on Wednesday.
Kanalas checked in right behind Newell with a +15 round of 87, good for 45th place in the loaded conference field. Kanalas was last year's representative on the WHAC's Champions of Character Team and, like Newell, is a junior leader on a squad that holds plenty of promise heading into the spring season.
The Mustangs have one more outing before the fall campaign comes to a close. On Monday (Oct. 19), Kanalas and Newell will hit famed Warwick Hills Country Club in Grand Blanc, Mich. for a season-ending non-conference round beginning at 9 a.m.
GOLF CONTACT: Tim Johnston | [email protected]/* */ | @tjohnston56
MARYGROVE BROADCASTS: Mustang Sports Network | Twitter
FOLLOW THE TEAM 24/7:Â Twitter