Aquinas' Late Tally Sends Men's Soccer to 2-1 Defeat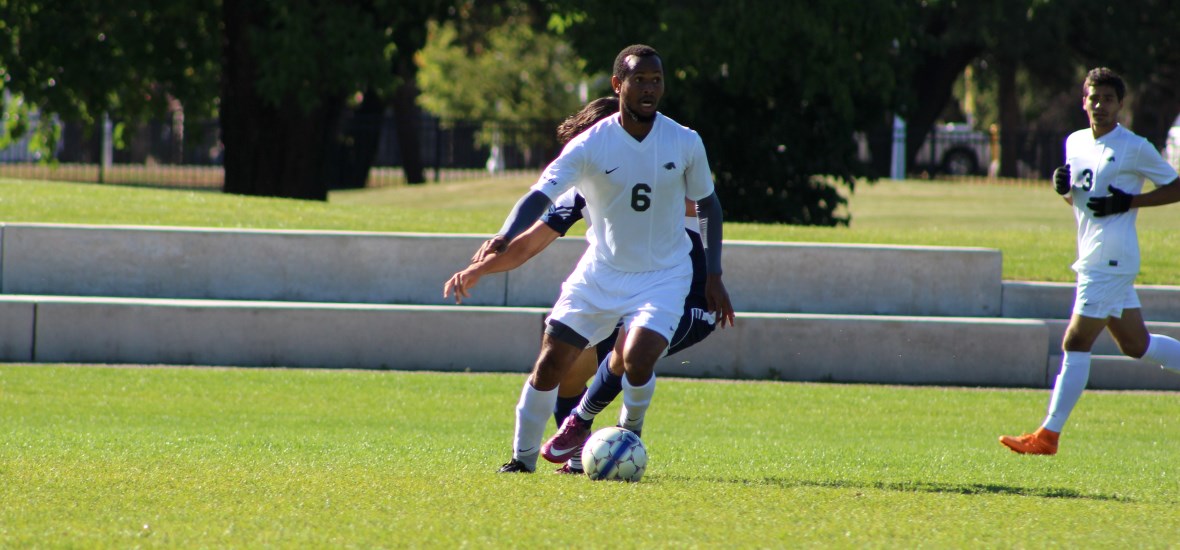 STAY CONNECTED: Facebook | Twitter | Instagram | YouTube
BE THE FIRST TO KNOW:Â Text & Email Alerts
DOWNLOAD OUR APPS:Â iOS (iPhone/iPad)Â |Â Android
GRAND RAPIDS, Mich. –Â An Aquinas College goal in the 83rd minute lifted the hosts past Marygrove men's soccer by a 2-1 final score on Saturday (Oct. 17) in Grand Rapids, Mich. Saturday's league tilt was a rematch of last year's WHAC quarterfinal contest, a match the Saints won in Detroit, 2-0.
The Mustangs went down early in the game's 12th minute when Cameron Vela tucked in his first of two goals on the afternoon. Vela's 12th minute unassisted goal lifted the scoring lid in an otherwise defensive-minded battle between conference foes.
Khalid Suleiman (Tulkarm, Palestine/Madonna Univ.) tallied points for the second match in a row, this time providing the assist on a Moussa Diallo (Conakry, Guinea/Fordson High School) strike in the 42nd minute. The Suleiman-to-Diallo connection knotted the match before the half, 1-1, as the team's went into the break looking for ways to tally goal number two.
In the second half, Vela broke free for a goal off of an Aldony Mendez assist in the 83rd minute, providing the Saints all the scoring needed to squeak out the home win, 2-1.
The Mustangs out-chanced the Saints with an 8-3 shots on target advantage. In total, the Mustangs outshot the Saints 17-11 overall behind chances created by Gonzalo Caceres (Detroit, Mich./Southwestern High School), Abdoulie Jallow (Bansang, The Gambia/Rust College) and a host of other Mustangs.
Keeper Ayman Youssef (Dearborn Heights, Mich./Walsh University) got the nod in net again and went on to save three Saints' shots in the setback.
The Mustangs finished Saturday's WHAC showdown down a man after cards played a factor late in the contest.
HOME SWEET HOME
The remaining schedule has the Mustangs playing three of their final four regular season contests in the Motor City. Two home matches are on the slate next week with Siena Heights visiting first on Wednesday (Oct. 21) at 4 p.m. Live video of Wednesday's match will begin at 3:45 p.m. on the Mustang Sports Network at marygrovemustangs.com/live. 
MEN'S SOCCER CONTACT: Tim Johnston | [email protected]/* */ | @tjohnston56
MARYGROVE BROADCASTS: Mustang Sports Network | Twitter
SOCIAL MEDIA:Â Men's Soccer on Twitter