Women's Volleyball Swept by Indiana Tech on the Road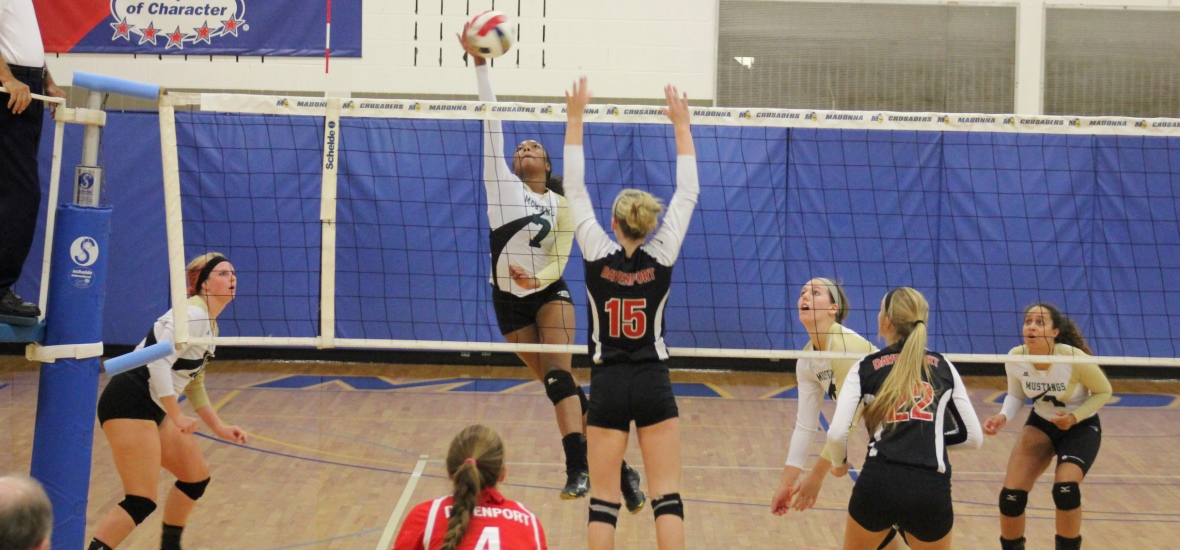 STAY CONNECTED: Facebook | Twitter | Instagram | YouTube
BE THE FIRST TO KNOW:Â Text & Email Alerts
DOWNLOAD OUR APPS:Â iOS (iPhone/iPad)Â |Â Android
FORT WAYNE, Ind. — Marygrove women's volleyball fell short of recording the season's first winning streak as the host Indiana Tech Warriors swept through the Mustangs, 3-0, in Fort Wayne, Ind. on Wednesday (Oct. 21). One match after a thrilling upset over Northwestern Ohio, the Mustangs (4-21, 2-14 WHAC) struggled to get going as the Warriors earned win 16 on the season to improve to 16-10 overall and 11-5 in the conference.
After losing set one, 25-16, the Mustangs battled back from a nine-point deficit in the second frame to play the Warriors close. Despite climbing back into the match, the Mustangs fell in an improved set two, 25-19, before finally faltering in the third, 25-20.
The Mustangs were led at the net by sophomore middle/outside hitter Skylar Zeigler (Canton, Mich./Belleville High School) with a perfect four-kill, no-error night for a .444 hitting percentage. Zeigler's solid night continued with a solo block and block assist to finish second with Rachel Staudt (Novi, Mich./Lawrence Tech) behind Wednesday's block leader, Ashley Murphy, who tallied three total blocks.
Murphy worked her way to another well-rounded match, tying Zeigler with four kills while also posting 11 digs, good for second on the team. Sophomore defensive specialist/libero Amber Kelly (Mt. Morris, Mich./Mt. Morris High School) paced the Mustangs defensively with 19 digs and accounted for the team's only two aces on the night.
Hayley Jury (Plymouth, Mich./Ladywood High School) set-up the attack with a team-best 17 assists while sophomore Amber Staudt (Novi, Mich./Schoolcraft College) followed with three assists and three digs. Alixandria Pappas and [Rachel] Staudt combined for six kills in the setback.
As a team, the Mustangs had 24 kills and 18 errors as the attack struggled to find a rhythm all night against the red-hot Warriors. On the other end, the Warriors sent down 45 kills on 118 attack attempts for a .203 hitting percentage.
The Mustangs have a rare weekend off before returning home on Wednesday (Oct. 28) to host Concordia-Ann Arbor at 7 p.m. inside Detroit Jesuit High School.
WOMEN'S VOLLEYBALL CONTACT: Tim Johnston | [email protected]/* */ | @tjohnston56
MARYGROVE BROADCASTS:Â The Mustang Sports Network (MSN)Â |Â MSN Twitter
WOMEN'S VOLLEYBALL:Â Twitter