Men's Soccer Receives Votes in Latest NAIA Top-25 Coaches' Poll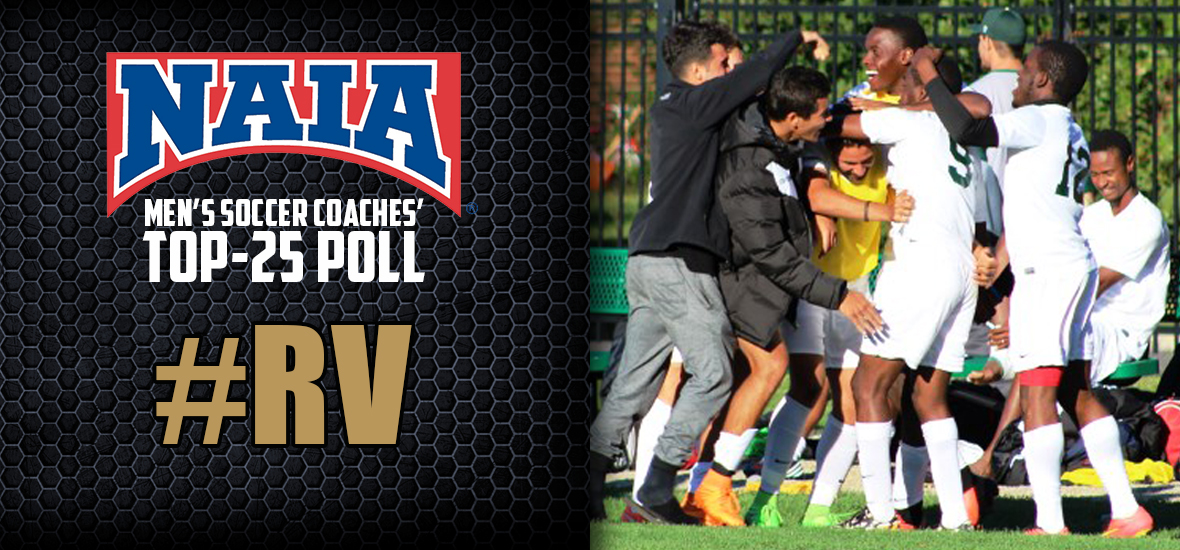 STAY CONNECTED: Facebook | Twitter | Instagram | YouTube
BE THE FIRST TO KNOW:Â Text & Email Alerts
DOWNLOAD OUR APPS:Â iOS (iPhone/iPad)Â |Â Android
NAIA Release / Complete Top-25 Poll
KANSAS CITY, Mo. – The NAIA National Office released the sixth edition of the Top-25 Coaches' Poll on Tuesday (Nov. 3) and Marygrove men's soccer found its way into the receiving votes category for the first time in program history. With the announcement, the Mustangs become the first of any Marygrove athletics program to receive votes in a NAIA poll.
The receiving votes nod comes after a thrilling overtime win on Saturday (Oct. 31) over the nation's fourth-ranked team, Northwestern Ohio, and a string of other quality victories including a 2-1 road triumph at NCAA Division II No. 6 Saginaw Valley State University earlier this season.
The Mustangs received nine (9) votes in the poll after putting the finishing touches on a successful regular season. Seventh-year head coach Matt Johnson and the Mustangs wrapped up the regular season on Saturday with arguably one of the biggest wins in program history, finishing the campaign with an 11-6-1 overall record and an 8-2-1 mark in Wolverine-Hoosier Athletic Conference (WHAC) play.
The 11-win total ties the program record for most wins in a single season, set on two prior occasions, 2011 (11-7-0) and 2013 (11-8-0).
Fellow WHAC members Davenport and Northwestern Ohio checked in ahead of Marygrove in the poll, sitting third and eighth, respectively, in the nation. Rio Grande (Ohio) remained on top of the poll after receiving all 19 first-place votes with a 16-1-0 record.
The Mustangs – a team now with a (RV) or #RV in front of their name – will host sixth-seeded Lourdes in the quarterfinal round of the WHAC tournament on Saturday (Nov. 7) at 2 p.m. Receiving the conference's third seed, the Mustangs earned the right to host the program's second home conference playoff match in as many seasons. Live video coverage of Saturday's WHAC quarterfinal will begin at 1:45 p.m. on the Mustang Sports Network.
Week 11 men's soccer notes, a playoff match preview and more will be released Wednesday (Nov. 4) afternoon.
RELIVE SATURDAY'S 2-1 OVERTIME WIN OVER NO. 4 NORTHWESTERN OHIO
MEN'S SOCCER CONTACT: Tim Johnston | [email protected]/* */ | @tjohnston56
MARYGROVE BROADCASTS: Mustang Sports Network | Twitter
SOCIAL MEDIA:Â Men's Soccer on Twitter