Men's Basketball Held to 55 Points in WHAC Opener as No. 3 Davenport Rolls in Grand Rapids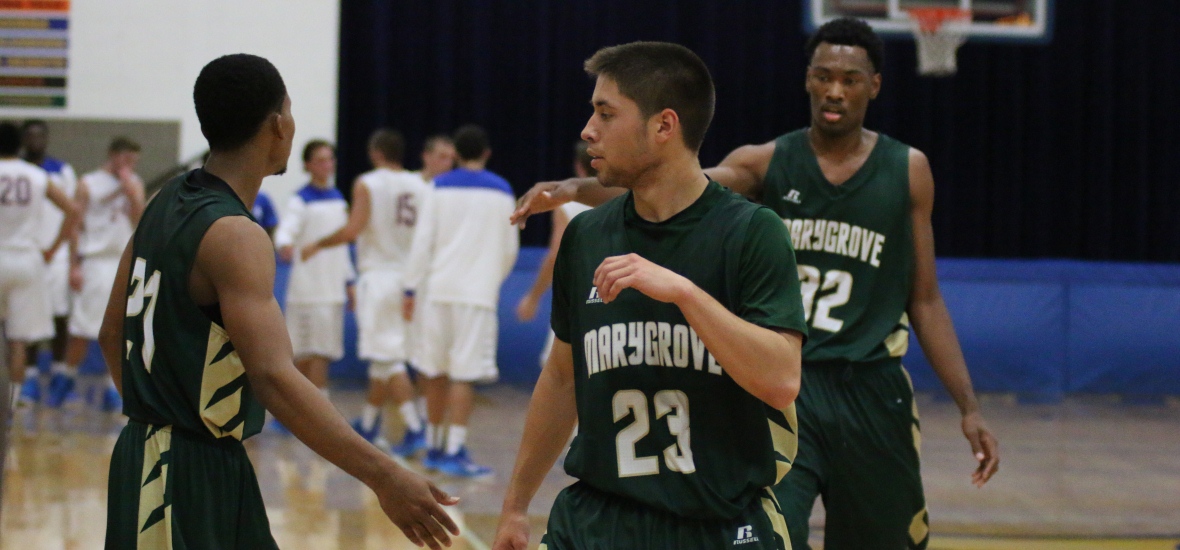 STAY CONNECTED: Facebook | Twitter | Instagram | YouTube
BE THE FIRST TO KNOW:Â Text & Email Alerts
DOWNLOAD OUR APPS:Â iOS (iPhone/iPad)Â |Â Android
GRAND RAPIDS, Mich. — The Wolverine-Hoosier Athletic Conference (WHAC) opener for Marygrove men's basketball changed course midway through the first half as the No. 3 Davenport Panthers closed the opening stanza on a blistering 31-4 run to top the Mustangs, 99-55, on Wednesday (Nov. 11) in Grand Rapids, Mich. The Mustangs (0-3, 0-1 WHAC) trailed by two, 16-14, before the third-ranked Panthers pulled away for good, outscoring the Mustangs by 25 points over the final 9:39 of the opening half.
The run was a product of another cold shooting spell for the Mustangs and an efficient Panthers (3-0, 1-0 WHAC) offense as the hosts recorded 11 assists to the Green and Gold's zero in the opening half.  Turnovers played a factor early, too, as the Panthers forced 19 Mustang miscues over the opening 20 minutes.
In the second half, the Mustangs were unable to slow down the Panthers as all-time leading scorer Dominez Burnett led the way with 27 points to help the Grand Rapids-based team to a 99-55 victory to open league action.
The Mustangs were held to 55 points, just shy of 27 less than their early-season average, as the Panthers took home a 43-7 advantage in points off turnovers to stymie to the Green and Gold's offense. The 36-point edge in the points off turnovers area made up nearly all the difference as the Mustangs committed 28 miscues (Davenport 14) while shooting 33-percent from the field (21-of-63).
The Panthers connected on 32-of-62 shots for a 52-percent night from the floor.
Isaac Gillum (Milwaukee, Wis./Holy Redeemer High School) paced the Mustangs with 14 points – all coming in the second half – on 6-of-14 shooting. Kenneth Miller (Flint, Mich./Grand Blanc High School) tallied eight points while Sirafino Davis (Flint, Mich./Tiffin University) added six of his own.
The rebounding battle was won by the Mustangs, 41-39, led by Diante Taylor (Battle Creek, Mich./Central High School) and Davis who combined for 11 boards.
The Mustangs host undefeated Ohio Christian University on Friday (Nov. 13) at 7 p.m. The site of the game will be officially released Thursday (Nov. 11).
MEN'S BASKETBALL CONTACT: Tim Johnston | [email protected]/* */ | @tjohnston56
MARYGROVE BROADCASTS:Â The Mustang Sports Network (MSN)Â |Â MSN Twitter
MEN'S BASKETBALL:Â Twitter