Four Volleyball Student-Athletes Honored For Academic and Character-Based Achievements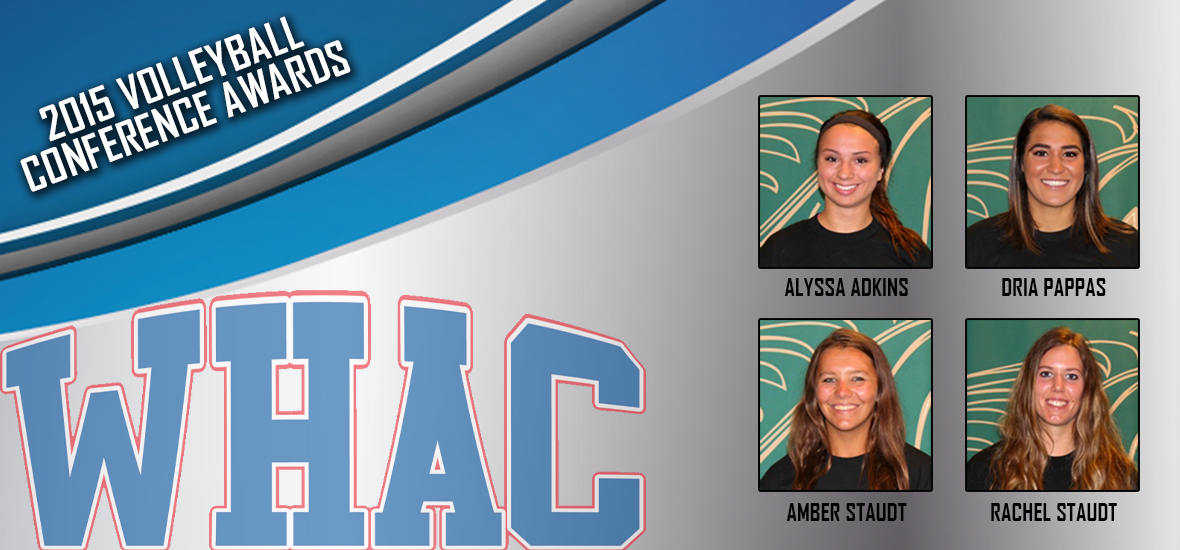 STAY CONNECTED: Facebook | Twitter | Instagram | YouTube
BE THE FIRST TO KNOW:Â Text & Email Alerts
DOWNLOAD OUR APPS:Â iOS (iPhone/iPad)Â |Â Android
GRAND RAPIDS, Mich. — The Wolverine-Hoosier Athletic Conference (WHAC) announced its annual volleyball awards on Thursday (Nov. 12) and four Marygrove College volleyball student-athletes were among the honorees, led by four-year senior and three-year captain Alixandria Pappas with a pair of honors.
WHAC ALL-ACADEMIC TEAM (minimum 3.25 cumulative GPA and a junior in academic standing entering the year)
Pappas (St. Clair Shores, Mich./Lakeview High School) earned her second appearance on the WHAC All-Academic Team in as many years and was joined by fellow senior Rachel Staudt (Novi, Mich./Lawrence Tech) as a two-time honoree of the heralded award. Staudt previously won the award during her time at fellow conference institution Lawrence Tech in 2013.
For Pappas, the award is the latest in a long line of academic-related accomplishments at the four-year private institution in Detroit.
Staudt was joined by her younger sibling, Amber Staudt, on the list of the conference's academic standouts. The younger Staudt (Novi, Mich./Schoolcraft College) appears on the WHAC All-Academic Team for the first time – also her first year of eligibility for the award as a junior. Fellow junior Alyssa Adkins (Melvindale, Mich./Melvindale High School) rounds out the 2015 conference academic honorees for the Mustangs, joining [Amber] Staudt on the academic team in her first-year of eligibility for the award.
All four Mustangs were also recently tabbed United States Collegiate College Athletic Association (USCAA) Academic All-Americans, joined by Hailey Brandes (Southgate, Mich./Anderson High School), Paige Hughes (Belleville, Mich./Huron High School) and Ashley Murphy (Southfield, Mich./Clarenceville High School). Student-athletes must be a sophomore or above in academic standing and possess a 3.5 or higher cumulative GPA in order to be named to the USCAA Academic All-American Team.
The Mustangs ranked second nationally in the USCAA with seven honorees on the 2015 list (Carlow, 8). With four WHAC All-Academic members, the Mustangs tie for second for the most in the conference behind Lawrence Tech and Lourdes with five.
WHAC CHAMPIONS OF CHARACTER TEAM
Fourth-year head coach Jamie Baker tabbed senior leader Alixandria Pappas as the Mustangs' representative on the WHAC's Champions of Character Team for the second time in as many years. With the honor, Pappas becomes Marygrove's first two-time character-based award winner (any sport) since the Mustangs joined the WHAC in 2012. Pappas was selected by Baker for showcasing the NAIA's Five Character Values of Integrity, Respect, Responsibility, Servant Leadership and Sportsmanship throughout the 2015 campaign.
WOMEN'S VOLLEYBALL CONTACT: Tim Johnston | [email protected]/* */ | @tjohnston56
MARYGROVE BROADCASTS:Â The Mustang Sports Network (MSN)Â |Â MSN Twitter
WOMEN'S VOLLEYBALL:Â Twitter