Women's Basketball Holds Off Michigan-Dearborn to Record 62-59 Road WHAC Win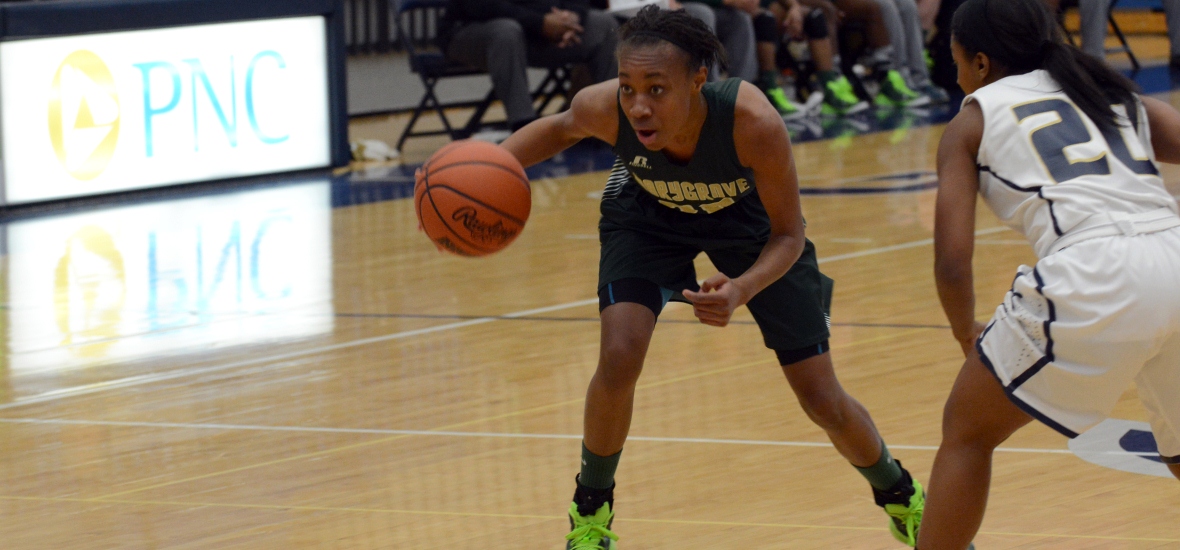 STAY CONNECTED: Facebook | Twitter | Instagram | YouTube
BE THE FIRST TO KNOW:Â Text & Email Alerts
DOWNLOAD OUR APPS:Â iOS (iPhone/iPad)Â |Â Android
DEARBORN, Mich. – A combined 39 points out of Elisha Major and Shavarra Patton – coupled with a pair of late free throws from Theresa Dray – was enough for Marygrove women's basketball to hold off the Michigan-Dearborn Wolverines by three, 62-59, on Monday (Nov. 16) in Dearborn, Mich. The Mustangs pulled even in WHAC play with the win, standing at 1-1 after the one-possession contest against the Wolverines (0-4, 0-1 WHAC).
The Mustangs move to 3-0 over their last three meetings with the Wolverines dating back to a 66-61 victory in Dearborn on Dec. 6, 2014. The five-point victory from a season ago was the Mustangs first WHAC win in program history.
Trailing by two after one quarter, the Mustangs (4-3, 1-1 WHAC)Â responded and rallied to knot the game up at the half, 33-33, behind 12 points from Patton and 10 from Major. The pair accounted for two-thirds of the Mustangs' scoring in the opening half and were followed by Breanna Thomas (San Antonio, Texas/Gillette CC) and Dray (Davison, Mich./Davison High School) with five and four points, respectively.
Patton (Detroit, Mich./Northwestern High School) and Dray pulled down a team-best five rebounds each in the first half.
The Mustangs went into the halftime break tied despite a barrage of seven three pointers made by the Wolverines. Able to answer each Wolverine run, the Mustangs dropped in five first-half triples of their own, led by two each from Major (Flushing, Mich./Flushing High School) and Patton.
Both teams would engage in a seesaw battle the rest of the way with the Wolverines taking a late 59-58 edge off of a Mustang turnover with 48 seconds remaining in the fourth quarter. The Mustangs had another answer left as Patton drove the lane from the elbow to convert a go-ahead layup with 33 seconds left to play.
Patton's drive would stand as the game-winning basket as Dray stepped to the line to knock down a pair of free throws, securing the three-point conference win over the Wolverines.
Patton led all scorers with a game-high 20 points to go along with 10 rebounds, followed closely by Major with 19 points. Patton's double-double is a continuation of a balanced season in which the sophomore guard has averaged just north of 16 points and eight rebounds per game.
Thomas checked in with a tough nine points, including a late basket to temporarily give the Mustangs the lead late in the contest, while Dray pulled in 10 rebounds to accompany an eight-point effort. Transfer guard Taylor Kelley (Farmington Hills, Mich./Adrian College) recorded six points, five rebounds and three assists in 35 minutes of action.
The Wolverines were led by Megan Swick with 16 points.
The Mustangs travel to Fort Wayne, Ind. to take on Indiana Tech Wednesday (Nov. 18) at 6 p.m.
SHAVARRA PATTON'S GAME-WINNING DRIVE WITH UNDER A MINUTE REMAINING
WOMEN'S BASKETBALL CONTACT: Tim Johnston | [email protected]/* */ | @tjohnston56
MARYGROVE BROADCASTS:Â The Mustang Sports Network (MSN)Â |Â MSN Twitter
WOMEN'S BASKETBALL:Â Twitter