Men's Basketball Can't Overcome Tough First Half in 81-70 Loss at Purdue Calumet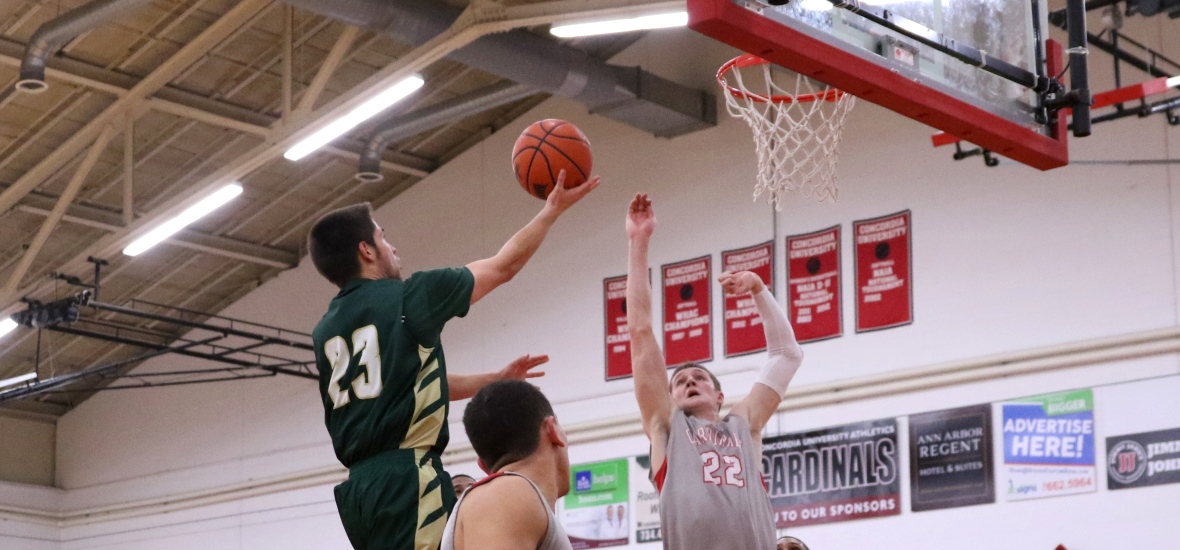 STAY CONNECTED: Facebook | Twitter | Instagram | YouTube
BE THE FIRST TO KNOW:Â Text & Email Alerts
DOWNLOAD OUR APPS:Â iOS (iPhone/iPad)Â |Â Android
HAMMOND, Ind. –Â Marygrove men's basketball slid to 1-14 on the season after a late push fell short in an 81-70 setback at Purdue Calumet on Wednesday (Dec. 30) in Hammond, Ind. The Mustangs trailed by 14 at halftime and by as many as 25 in the game before outscoring the host Peregrines (6-9) in the latter half.
The Peregrines shot a blistering 18-of-34 in the first half, good for a 53-percent clip as LeBradford Sebree led all scorers in the opening stanza with 14 points. Tyler Sykes (Sterling Heights, Mich./Stevenson High School) went basket-for-basket with Sebree in the opening half, pouring in a team-best 12 points behind a 2-for-3 effort from three-point land to keep the Mustangs within striking distance.
Sykes' 12-point half accounted for a third of the Mustangs field goals in the first half as the team struggled to a 9-of-27 effort (33-percent).
The Mustangs raced back in the second half behind a strong showing out of senior guard Diante Taylor (Battle Creek, Mich./Central High School). Taylor tallied 10 second-half points, followed by eight points each in the latter frame out of Sirafino Davis (Flint, Mich./Tiffin University) and Nate Taylor (Battle Creek, Mich./Kellogg Community College).
The trio of Mustangs were able to cut into the Peregrines lead, but the hosts early advantage was too much to overcome as the Green and Gold fell by 11 in non-conference action on the road.
Nate Taylor recorded his second double-double in as many games with the Mustangs after dropping in 15 points and adding 11 rebounds. Davis checked with an equal 11 rebounds while tallying eight points and blocking five shots. Diante Taylor paced all scorers with a game-high 18 points to go along with seven rebounds and a pair of assists.
Sebree led the Peregrines with 17 points.
The Peregrines shot 46-percent (31-of-67) to record the win, holding the Mustangs to a 39-percent clip (24-of-62) from the field. The Mustangs also fell shy in the all-important points off turnovers battle after being outscored by the Peregrines, 24-16.
The Mustangs host current No. 5 and reigning NAIA Division II National Champion Cornerstone at 3 p.m. on Saturday (Jan. 2) inside Detroit's Northwest Activities Center. The Mustang Sports Network will stream Saturday's game live on marygrovemustangs.com/live.