No. 5 Cornerstone's Strong Shooting, Stellar Defense Hand Men's Basketball Conference Loss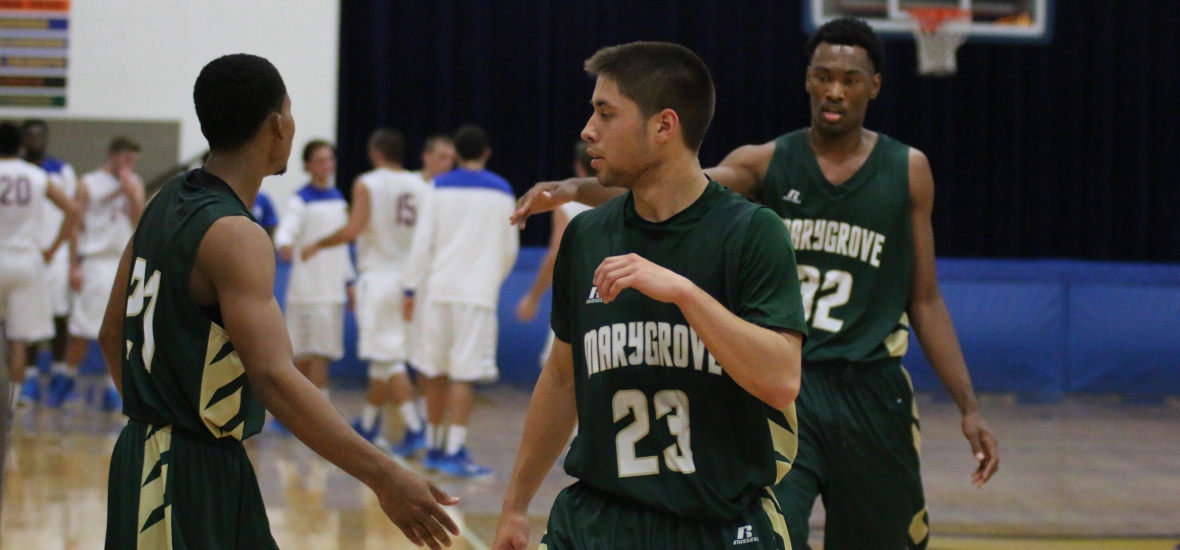 STAY CONNECTED: Facebook | Twitter | Instagram | YouTube
BE THE FIRST TO KNOW:Â Text & Email Alerts
DOWNLOAD OUR APPS:Â iOS (iPhone/iPad)Â |Â Android
DETROIT – A matchup between the reigning national champions, No. 5 Cornerstone, and Marygrove men's basketball went in favor of one of the nation's top teams as the visiting Golden Eagles topped the Mustangs 111-62 inside Detroit's Northwest Activities Center on Saturday (Jan. 2). The Golden Eagles moved to 12-3 on the season and 7-1 in WHAC play while the Mustangs dropped to 1-15 overall and 1-7 in the league.
The Golden Eagles found their groove from the opening tip behind a combined 31 points out of Ben Lanning and Kyle Steigenga in the first half alone. The pair shot 11-15 from the field to outscore the Mustangs in the first half, 31-27, to help the Golden Eagles take a 50-27 halftime lead.
The Mustangs shot 24-percent from the floor in the first half compared to the Golden Eagles 58-percent clip. Elijah Ingram (Detroit, Mich./Consortium High School) and Nate Taylor (Battle Creek, Mich./Kellogg Community College) tallied six points each in the opening half while Isaac Gillum (Milwaukee, Wis./Holy Redeemer High School) dropped in seven to try to keep the Mustangs within reach of  comeback.
A comeback was not in the cards, however, as the Golden Eagles continued to cruise in the second half to go on to win, 111-62.
The Golden Eagles shot 56-percent on the afternoon and made it to the free throw line for 43 attempts, making 27.  The Mustangs only made 24 trips to the charity stripe, converting on 16 tries while also struggling from the field to the tune of a 26-percent effort.
Nate Taylor led the Mustangs with 14 points and nine rebounds while Diante Taylor (Battle Creek, Mich./Central High School) dropping in nine points to add to a four-rebound, four-steal stat line.
Lanning (19) and Steigenga (24) finished with a combined 43 points for the Golden Eagles.
The Mustangs host No. 24 Aquinas Wednesday (Jan. 6) at 8 p.m. inside Northwest Activities Center.