Late Surge By Women's Basketball Falls Short As Aquinas Pulls Away In The Fourth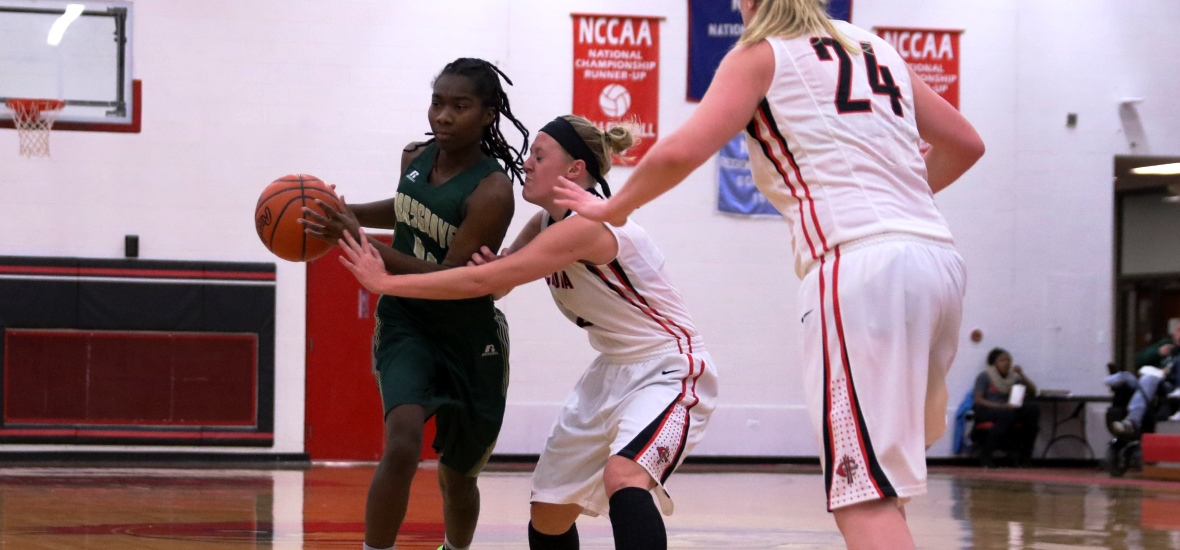 STAY CONNECTED: Facebook | Twitter | Instagram | YouTube
BE THE FIRST TO KNOW:Â Text & Email Alerts
DOWNLOAD OUR APPS:Â iOS (iPhone/iPad)Â |Â Android
DETROIT — Marygrove women's basketball surged late behind a barrage of threes before ultimately falling short in a 70-64 setback to Aquinas College on Wednesday (Jan. 6) in Detroit, Mich. The Mustangs were down by 10 at the half before tallying 27 third-quarter points – a season-high in conference play for points in a single quarter.
Despite the third quarter surge, the Mustangs fell by six as the visiting Saints pulled away in the fourth quarter by outscoring the Green and Gold 15-10 in the final frame.
The difference in the game came down to rebounding as the Saints out-boarded the Mustangs, 55-37, partly due to a 17-8 edge in offensive rebounds. The rebounding advantage led to a 18-5 edge in second-chance points for the Saints, helping the visitors survive a late scare by an upstart Mustangs squad.
Depth continued to be a concern for the Mustangs as the Saints used 10 players to outscore the Green and Gold's bench, 44-10.
Bri Spica and Tyra Williams combined for 37 points for the Saints in the win while Daneigh Wilde setup the offense with a game-high 10 assists.
The Mustangs were led by junior guard Elisha Major (Flushing, Mich./Flushing High School) with 22 points and Shavarra Patton (Detroit, Mich./Northwestern High School) with 17 of her own. Breanna Thomas (San Antonio, Texas/Gillette CC) fell one rebound shy of a double-double with 11 points and nine boards, while Theresa Dray (Davison, Mich./Davison High School) pulled down a team-best 12 rebounds.
Freshman guard Shyra Eddings (Detroit, Mich./Mumford High School) finished with a collegiate career-best 10 points in 34 minutes.
The Mustangs travel to Concordia-Ann Arbor for a 1 p.m. tip-off on Saturday (Jan. 9).