Men's Basketball Battles, Comes Up Short In The Second Half Against No. 25 Aquinas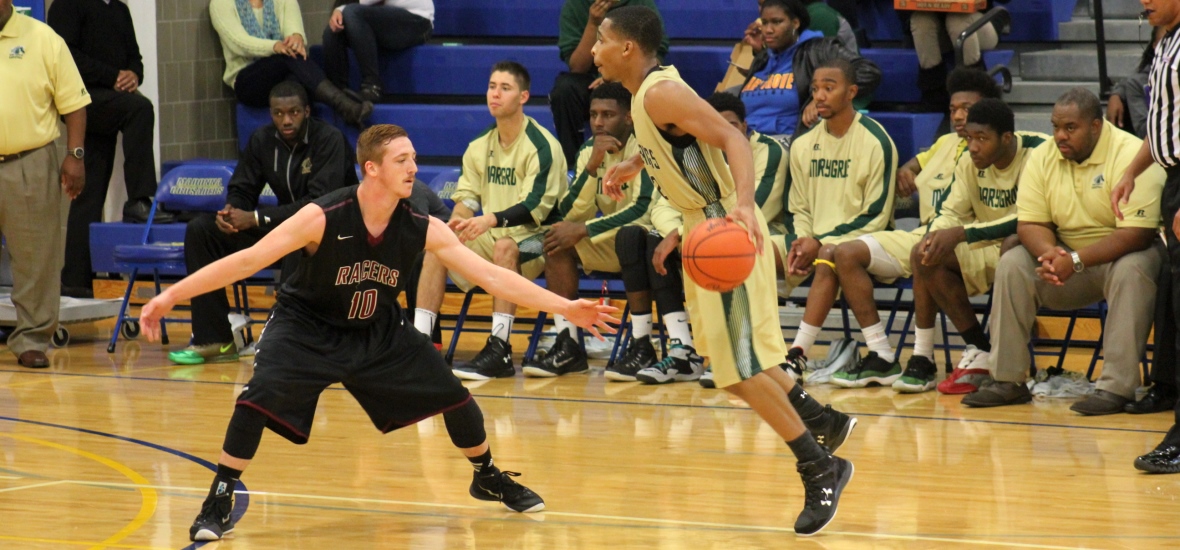 STAY CONNECTED: Facebook | Twitter | Instagram | YouTube
BE THE FIRST TO KNOW:Â Text & Email Alerts
DOWNLOAD OUR APPS:Â iOS (iPhone/iPad)Â |Â Android
DETROIT – Diante Taylor finished the night with 1,499 career points, leaving the senior guard one shy of becoming the third member of Marygrove men's basketball's 1,500 points club in the Mustangs 80-67 setback to No. 25 Aquinas on Wednesday (Jan. 6) in Detroit, Mich. Taylor will look to eclipse the 1,500 points mark in Saturday's (Jan. 9) WHAC tilt at Concordia-Ann Arbor at 3 p.m.
The Mustangs dropped to 1-16 overall and 1-8 in the WHAC with the loss. Aquinas improved to 8-1 in the conference and 12-5 overall after defeating the Mustangs by 13.
Nate Taylor (Battle Creek, Mich./Kellogg CC) led the Mustangs with 19 points and 11 rebounds, adding four steals and a block in 34 minutes. The former Kellogg Community College standout has recorded a double-double in three out of his four games played this season – his first in a Mustang uniform.
The Mustangs battled the Saints – the 25th-ranked team in NAIA Division II – all evening, trailing by 10 at the half (39-29) before cutting the deficit to two, 43-31, with 17:33 remaining in the contest. The two-point deficit would be as close as the Mustangs would get all night as the Saints led by as many as 18 points in the 80-67 victory.
The Saints were too much for the Mustangs down low, outscoring the Green and Gold 55-34 to avoid the upset.
Isaac Gillum (Milwaukee, Wis./Holy Redeemer High School) followed [Nate] Taylor with 12 points while Kenneth Miller (Flint, Mich./Grand Blanc High School) checked in with 11.
Aquinas was led by Zac VanBeek with 23 points.