Women's Basketball Drops Non-Conference Contest to NCAA Division II Central State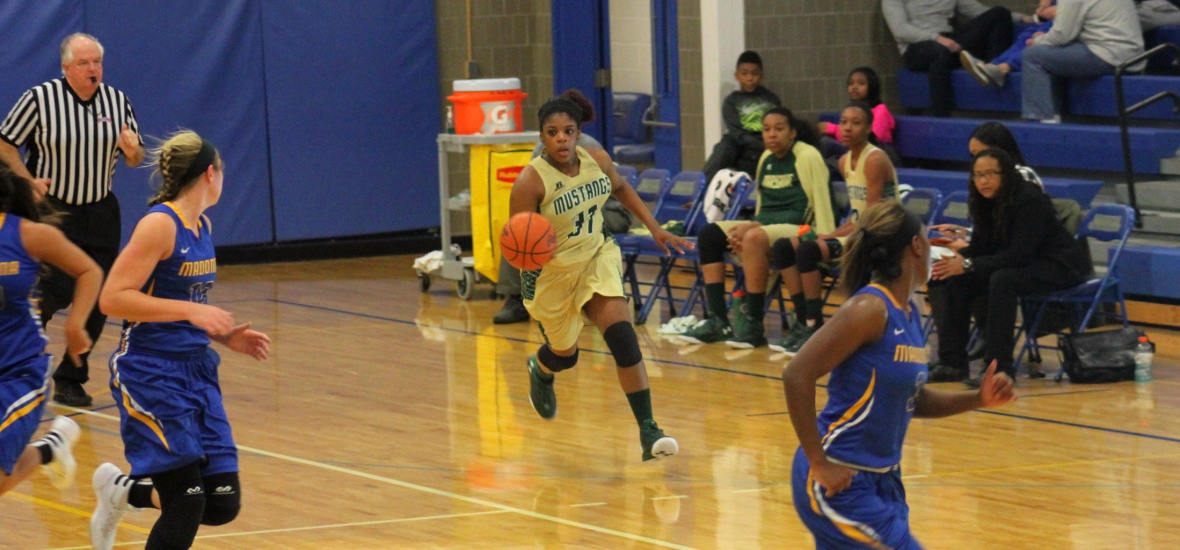 STAY CONNECTED: Facebook | Twitter | Instagram | YouTube
BE THE FIRST TO KNOW:Â Text & Email Alerts
DOWNLOAD OUR APPS:Â iOS (iPhone/iPad)Â |Â Android
DETROIT – Outscored 78-18 in points in the paint, Marygrove women's basketball lost their first non-conference game of 2016 on Monday (Jan. 11) to a much larger Central State University Marauder squad. Losing by a 97-59 final tally, the Mustangs fell to 4-13 on the season while the visiting Marauders used the non-conference win to elevate their record to 4-8.
With a roster boasting seven players standing 5-10 or above, the Marauders outrebounded the Mustangs by a crippling 85-30 margin, including a 40-8 advantage on the offensive glass. The large rebounding gap led to a 43-4 lead in second chance points for the Marauders, another stat line that doomed the much smaller Mustangs against the NCAA Division II program.
The Mustangs countered the Marauders size with one player 5-10 or above in junior center Theresa Dray (Davison, Mich./Davison High School). Dray would suffer an injury in the game, leaving the Mustangs with six active players and a host of depth issues in the frontcourt.
Despite the size differential, the Mustangs battled tough, trailing by five after one quarter before the Marauders pulled away in the second. Then in the third, the Mustangs traded baskets with the Marauders, losing the frame by a narrow 23-20 tally in a game that ended in a 97-59 final in favor of the visitors.
Junior guard Elisha Major (Flushing, Mich./Flushing High School) paced the Mustangs with 28 points in the non-conference tilt, followed by 11 each out of Teonna Pope (Detroit, Mich./Martin Methodsit) and Breanna Thomas (San Antonio, Texas/Gillette CC).
Kourtni Perry, a 6-2 center, led the Marauders with 23 points and 14 rebounds.
The Mustangs visit conference foe Lourdes on Wednesday (Jan. 13) at 6 p.m.