Taylor Nets 25 as Men's Basketball Holds Off Late Lourdes Surge to Earn 82-79 Road Win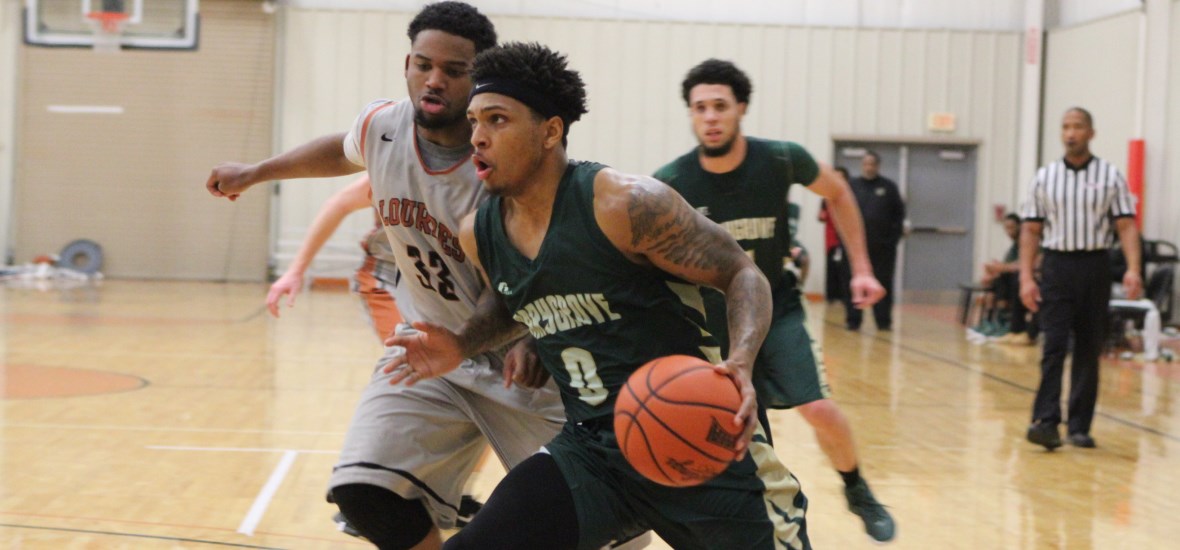 STAY CONNECTED: Facebook | Twitter | Instagram | YouTube
BE THE FIRST TO KNOW:Â Text & Email Alerts
DOWNLOAD OUR APPS:Â iOS (iPhone/iPad)Â |Â Android
SYLVANIA, Ohio — Marygrove men's basketball picked up season and conference win number two on the season on Wednesday (Jan. 13) in an 82-79 triumph over Lourdes in Sylvania, Ohio. The Mustangs, now 2-17 on the season and 2-9Â in the WHAC, led by as many as 19 points in the second half before the Gray Wolves (8-10, 3-8 WHAC) rallied late to briefly regain the lead.
After leading 14-13 with 11:30 remaining in the first half, the Mustangs raced out to a 24-9 run to take a commanding 38-22 lead with 1:51 left before the halftime break. The Gray Wolves closed the opening stanza strong, scoring seven of the final 11 points in the frame to trim the Mustangs lead to 42-29 at the half.
The Mustangs extended their lead to 19 on multiple occasions in the latter half, the latest coming with 12:50 remaining in the game when Isaac Gillum (Milwaukee, Wis./Holy Redeemer High School) connected on a layup to five the Green and Gold a 62-43 lead. The 19-point edge was as much distance as the Mustangs could create as the Gray Wolves clawed back behind a stunning 27-4 run to take a four-point lead (70-66) with 6:50 left on the clock.
The six-minute run changed the complexion of the game, momentarily, before the Mustangs answered with a game-closing 16-9 tear to secure their second win of the campaign and hold off a late Gray Wolves comeback.
Diante Taylor (Battle Creek, Mich./Central High School) led the Mustangs with 25 points on 5-of-8 shooting from three-point land and was followed closely by Gillum who poured in a career-high 24 points on a 10-of-16 performance from the field. Nate Taylor (Battle Creek, Mich./Kellogg CC) nearly completed his first triple-double at Marygrove with 15 points, 12 rebounds and eight assists.
Elijah Ingram (Detroit, Mich./Consortium High School) rounded out the double-digit scorers with 13 points while Sirafino Davis (Flint, Mich./Tiffin University) corralled six rebounds and recorded six blocks.
E.J. Blackwell paced the Gray Wolves with a game-high 33 points.
The Mustangs visit No. 1 Davenport on Saturday (Jan. 16) for a 3 p.m. tip-off.